Have you seen Encanto yet? My daughters and I are love this film! We find ourselves speaking in Encanto movie quotes throughout the day. 
Yes, you guessed it: we have watched Encanto countless times both in English and in Spanish.
Encanto is the 60th animated feature from Walt Disney Animation Studios, and I am sure it will win an Academy Award.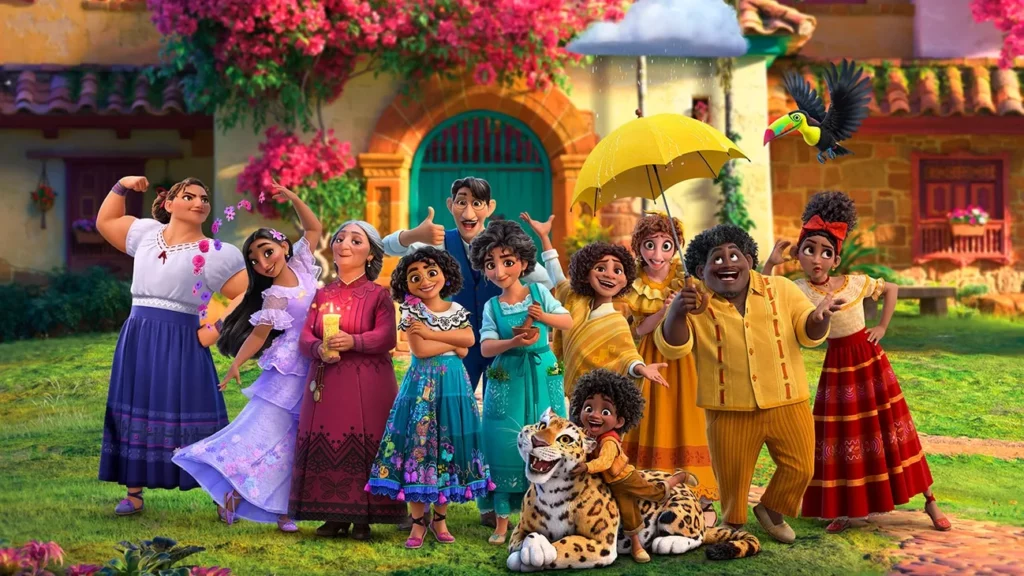 With Encanto being available now to watch at home, I am finally sharing all my thoughts, because we don't talk about Bruno… Ahem- I mean, we don't talk about Encanto without sharing some spoilers.
What is Encanto about?
Encanto is a word in Spanish that means "Spell" or "Charm," or more literally, "Enchantment."In this animated film, the magic of an Encanto has blessed every child and grandchild in the family (La Familia Madrigal) with a unique gift —except for Mirabel.
Los Madrigal are an extraordinary multi-generational family living in a magical casita (house) hidden in a vibrant town in the mountains of Colombia.
When Mirabel discovers that the Encanto is in danger, Mirabel finds the determination to save the magic… and her family.
Encanto is a fantastical, captivating tale, in a beauty-full and wonder-filled setting. This Disney movie features fictional characters that possess super-strength, prophesying gifts, and healing powers… But it's also an analogy that covers way more than meets the eye. We'll explore the generational trauma and dysfunctional family dynamics together after I share some Encanto movie quotes with you! 
 Is Encanto kid-friendly?  Positive Mom Review.
Encanto is rated PG because of thematic elements and mild peril per the MPAA. I consider it kid-friendly for most ages, even though it features a family death, fire, and destruction.
But do use discretion with your own children. There is no villain or antagonist in Encanto; however, the rivalry and sadness could affect empathetic and sensitive children.
I found some references that people deal with their emotions by drinking caffeine and alcohol, as well. There is also no profanity in Encanto. (Although if you speak Spanish, you know the expression Miercoles! doesn't exactly mean "Wednesday!").
There is also one mention of G-d. Encanto is beautiful, upbeat, and fun, and a great opportunity to talk about Bruno… I mean, family dysfunction!
Encanto is Inspired by Colombian Culture
In each of my interviews with the filmmakers at Walt Disney Animation Studios, it's impressive to me how much emphasis they put on research. They went above and beyond with Encanto. 
Film directors Jared Bush and Byron Howard, co-director Charise Castro Smith, and producer Yvett Merino really wanted to portray the authentic culture throughout the film.
The creative team visited the Cocora Valley, which ended up being the place where the Casita is set, and placed elements in every scene to represent Colombian culture.
There is an interesting balance between Colombian elements and fantastical elements in the movie. The Madrigal family symbol is the butterfly because Colombia has the most butterflies in the world!
The yellow butterflies pay homage to my beloved Gabo (Gabriel García Márquez) and his book 100 años de Soledad (100 years of solitude).
My brother and I love this book and read an old copy we found over and over and over again as children.
The cattleya trianae orchid, which is known as "Flor de Mayo,"  ("May flower") has been the national flower of Colombia since 1936.
La Música de Encanto es espectacular!
Walt Disney Animation Studios' Encanto features all-new songs by Emmy, Tony, and Grammy award-winner Lin-Manuel Miranda, who is originally from Puerto Rico.
Encanto also features songs performed by Carlos Vives, who is a favorite in all Latin America. From cumbia to reggaeton, I love the rhythms of our Hispanic heritage.
The Cast of Encanto
"Encanto" features the voices of:
Stephanie Beatriz as the only ordinary child in the Madrigal family: Mirabel. She was born in Argentina to a Bolivian mother and a Colombian father.
María Cecilia Botero, originally from Colombia, as Mirabel's grandmother, Abuela Alma.
John Leguizamo, Colombian-born, as Mirabel's uncle Bruno. Angie Cepeda, Colombian actress, as Mirabel's mom, Julieta
Wilmer Valderrama, whose father is Venezuelan and mother is Colombian, as Mirabel's father, AgustínJessica Darrow, Cuban-American, as Mirabel's sister Luisa
Diane Guererro, Colombian, as Mirabel's sister Isabela
Carolina Gaitan, Colombian, as Mirabel's aunt Pepa
Mauro Castillo, Colombian, as Mirabel's uncle Félix (Pepa's husband)
Pepa and Félix's children in order of birth:
Adassa Candiani, reggaeton singer of Afro-Colombian descent, as Mirabel's cousin Dolores
Rhenzy Feliz, of Dominican descent, as Mirabel's cousin Camilo 
and Ravi Cabot-Conyers as Mirabel's cousin Antonio.
Honorable mention to Alan Tudyk, who plays the Toucan <3 and is considered the Walt Disney Studios' good-luck charm. 
Encanto Movie Quotes
I'm breaking up the Encanto movie quotes by character so you can learn about La Familia Madrigal and their community.
You'll find mild spoilers in these quotes, but they do make more sense in context.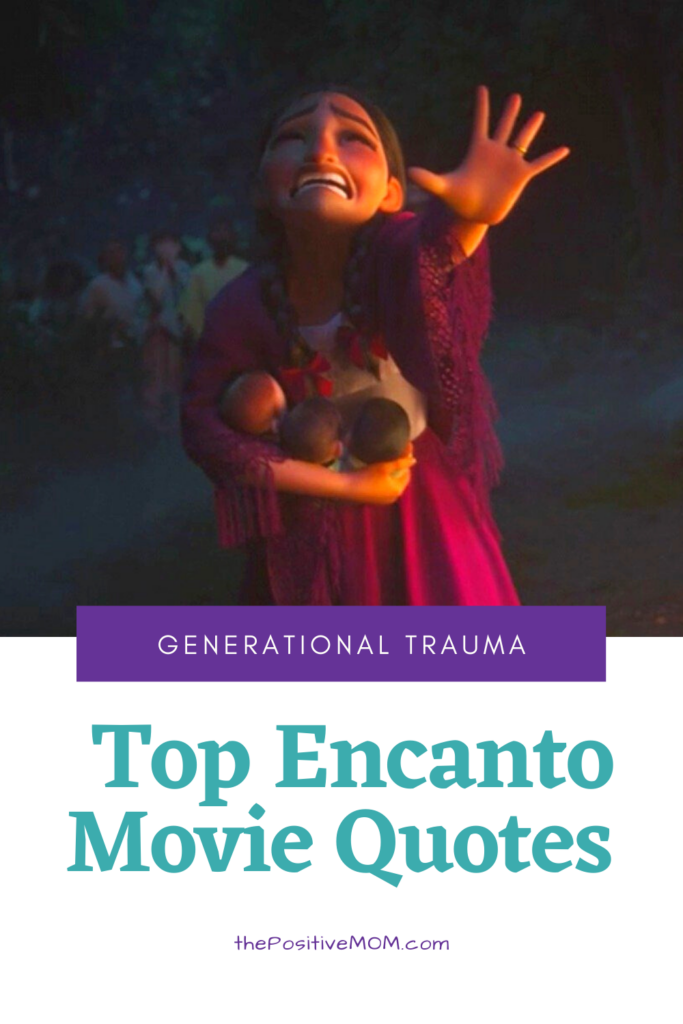 There's a lot of storytelling happening in the translation of the songs, so if you don't speak Spanish, English subtitles are going to be your best friend!
I watch everything with subtitles. They just make everything better!
You can see the Encanto trailer here to get a sense of these characters before reading their movie lines.
Generational Trauma in Encanto
Generational trauma is also known as intergenerational trauma, inherited trauma, multigenerational trauma or ancestral trauma.
So let's define Generational trauma! It refers to trauma that is passed down from the individual who directly experiences a traumatic event to the generations that come after them. 
The Familia Madrigal has all the ingredients of a dysfunctional family. There are parallels between Dr. Nicole LaPera's 7 Inner Child Archetypes and the Madrigal family members. 
These Encanto quotes will help you see the trauma response and each archetype: the caretaker, the overachiever, the underachiever, the rescuer/protector, the life of the party, the Yes person, and the hero-worshiper. 
Los Overachievers Madrigal
Being an overachiever is the very foundation of being part of this "gifted" family because their worth depends on what each accomplishes for the world to see.
Madrigal is a Hispanic last name, but the word itself is the name of an upbeat song, full of emotion, performed by several voices and no instruments. 
Abuela Alma Madrigal
Abuela Alma comes to life with. the voice of María Cecilia Botero. Alma means "soul" in Spanish, and la abuela is the soul of the family.
Her symbol is also the Familia Madrigal symbol: The butterfly.  You can find the butterfly on Abuela's dress.
Abuela Alma lost her husband, Abuelo Pedro, as a result of the Colombian civil war, and since then, she has held on tight to her tough Poderosa image. 
In the song "Dos Oruguitas" (Two Caterpillars), we see Alma's true self, falling in love with Pedro, starting their family, and losing him to become a widow with triplets. 
After witnessing this traumatic event and fleeing this violence, then she is given a miracle: a magical candle with a butterfly on it.
The song begins with the yellow butterfly and showcases the metamorphosis and transformation of the family. Here are some movie quotes by Alma Madrigal that can "open your eyes":
In our darkest moment, we were given a miracle. ~ Abuela
Abuela Alma is covering up her grief with gratitude. She reminds the family members in their everyday lives how they are so blessed, but covers up the immeasurable pain she's endured.
Tonight we come together once more as another one of us steps into the light to make us proud. ~ Abuela
Abuela's survivor guilt and sense of undeserving is the reason why she feels she needs to overachieve to prove her worth. This is why she has high expectations of her family.
In time, every member of our family was given their own magical gift. ~ Abuela
The gift is an allegory for family expectations. She wanted to prove that her family was worthy and self-sufficient, so every child had to step up to do their part.
I was given a miracle, a second chance. And I was afraid to lose it. I lost sight of who the miracle was for. ~ Abuela
Abuela realizes that the miracle is a second chance to love, rather than a chance to prove herself. She wanted to fulfill her dreams through her children but they had "su propio futuro" (their own future) to fulfill.
We must protect our home. We must protect our family.  ~ Abuela
As much as we would like to, we can't possibly protect our family from everything – and we shouldn't try. This is a delicate balance, which is why parenting is so hard!
The Magic is strong- and so are the drinks! ~ Abuela
Abuela is in denial, thinking that everything is protected by magic (whatever that magic might be), so she encourages everyone to drink and join her in that denial.
Open my eyes. If the magic is here, help me save the miracle. ~ Abuela
The first step in healing is admitting that we need more awareness – and seeking to understand. This is the first moment in which Abuela Alma acknowledges that she may not have it altogether.
And together, our family's gifts have made our new home a paradise. ~ Abuela
There is no paradise. Whenever we idealize reality, we are out of touch with it.
Abuela Alma sees her family as rescuers and protectors, which is why she burdens each member with unrealistic expectations. However, this is not a reciprocal experience because the Madrigals do not accept help from the community.
"To a perfect night. Salud." ~ Abuela
Drinking to a perfect night is definitely a sign of trouble. This perfectionism plagues everything and everyone in the Madrigal Family.
"And whatever you're doing – stop doing it." ~ Abuela
Mirabel can't ever do anything right in Abuela's eyes, because she didn't accept "the gift" that was assigned to her, but rather chose her own "ordinary" path.
He sent me you. ~ Abuela
In the Dos Oruguitas storytelling of the past, we see that young Abuela, her non-traumatized self, was much like Mirabel. In their heart-to-heart, Alma did open her eyes and surrendered her denial, she also remembered her true-self.
"Whatever gift awaits will be just as special as you." ~ Abuela
In the Madrigal Family, you will be loved for what you do, not who you are. This conditional love is at the root of the dysfunction. This is "the foundation" Mirabel talks about.
"The whole town relies on our family." ~ Abuela 
The burden of unreasonable expectations on the Madrigal family members is what causes the family to crack.
"We have a new gift." ~ Abuela
Abuela's pride and joy come from labels. The family image is what is most important to her, which is why if you want to be worthy in the family, you must have a gift.
"The magic is strong, everything is fine. We are the Madrigals." ~  Abuela
As the family matriarch, she wants to uphold the family's place in society. She assures everyone as if to assure herself that she deserves her place in the world.
"The best way for some of us to help…is to step aside." ~  Abuela
If you don't accept your role within the family, then whatever role you choose is useless to the family, and you are left out. Dysfunction shows up as withholding love and praise to one member of the family while overpraising another, and even worse, comparing the two.
Luisa Madrigal
Jessica Darrow lends her voice in Encanto as Luisa Madrigal. Her blessing and gift is the Madrigal Family magical power of strength. Her symbol is the Dumbbell on her clothing, as well as her muscles, that make her "the brawn" of the family.
The roles we play in the family are often influenced by birth order. Luisa is Abuela's oldest granddaughter.
She represents Abuela Madrigal's tendency of taking care of everything and everyone. Abuela Alma had to do this as a widow with triplets, but Luisa has taken this on as the oldest child in her family. 
Luisa is a rescuer and protector like Abuela, helping others to mask and avoid her own vulnerability. When a child takes on too much responsibility, like that of a parent, it's "parentification." This distorted role is a manifestation of trauma.
One of Abuela's false beliefs is that she needs to be strong for her family and her community – that they rely on the Madrigal family. Much of this burden falls on Luisa. Her song "Surface Pressure" is about how she's about to crack – which is the analogy of the family falling apart.
These are some of the most poignant Encanto movie quotes by Luisa:
"On it!" ~ Luisa
Luisa takes on too much to feel valuable. As Gabor Maté says in the movie The Wisdom of Trauma, "When you don't think you are wanted, you make yourself needed."
"I'm losing my gift!" ~ Luisa
Luisa takes on so much that sometimes she's on edge and loses her cool, and then she feels guilty about it.In the movie, Mirabel is the only person she opens up to about her worries and fears.
"Move. You're going to make me drop a donkey." ~ Luisa 
When things start to fall apart, Luisa will be defensive and blame someone else for what she can't accomplish. Her sole focus is to live up to her family's expectations, to the point of burnout.
Isabela Madrigal
Isabela Madrigal, voiced by Diane Guerrero, is referred to by Mirabel as "Señorita Perfecta Isabela." 
She takes on the predetermined role of "the golden child." She strives to be perfect and can do no wrong in Abuela's eyes.
"The beauty" works extra hard to make sure she stays on the high pedestal she's been put on since birth.
Her symbol is the Flor de Mayo flower. It's in the home, it's on a broach in her collar, it's in her hair, and she mentions it in her own song "What Else Can I Do?"
Isabela strives for perfection because of Abuela Alma's desire for everything to be perfect. Abuela sees her young self in Isabela.
She also sees Mariano and Isabela's relationship as the chance to "make things right" this time, to mend what was broken in the past when her husband Pedro was taken from her. If you do a double-take, you'll see that Mariano looks like young Pedro, just like Isabela looks like young Alma.
This is called repetition compulsion – and Isabela conforms to it to keep being "La consentida," her Abuela's favorite.
Here are some memorable Isabela quotes in Encanto:
"If you weren't always trying too hard, you wouldn't be in the way." ~ Isabela
Isabela mirrors her grandmother in looking down on Mirabel because they both resent that she is authentic, which they both secretly wish they would be.
"You wanna be a better sister? Apologize for ruining my life." ~ Isabela
Isabela can't bring herself to blame Abuela for her "duty to be perfect," so she projects her anger onto the next sibling in line, Mirabel. 
"I never wanted to marry him; I was just doing it for the family!" ~ Isabela
Isabela's fear of losing Abuela Alma's approval is greater than her fear of being unhappy for the rest of her life. When you live in dysfunction, unsafe feels safe and safe feels scary. She is a hero-worshiper, looking to Abuela in every decision, rather than to her own heart or intuition.
"You're a bad influence!" ~ Isabela
When you embrace your authentic self, it's normal to feel guilty or like you're doing something wrong.
Isabela really enjoys her freedom, but is still using her abuela's language when speaking to Mirabel. It takes a lot of practice and rewiring of our brains before we can shed false beliefs and false shame.
Mirabel Madrigal
Mirabel Madrigal is a humble, empathic, and awkward 15-year-old teenager who struggles to fit in as the only descendant of Abuela Madrigal without magical powers. She's "The Brain" or the thinker in the Familia Madrigal.
Stephanie Beatriz is the voice of Mirabel, who represents the part of Abuela that is seemingly flawed and ordinary. Abuela is secretly as worried about the cracks as Maribel is. Abuela also doesn't have any "magical gifts."
Mirabel's glasses show her personality as the one with a different perspective, the one that can see beyond what anyone sees. Her glasses have a green outline, which connects her to Bruno, because they both see things differently.
The sketches of her dress, along with the sewing machine in her room, show Mirabel's love for her family because she designed this dress to include each one of the symbols of the Madrigal family members – including a butterfly made of yarn.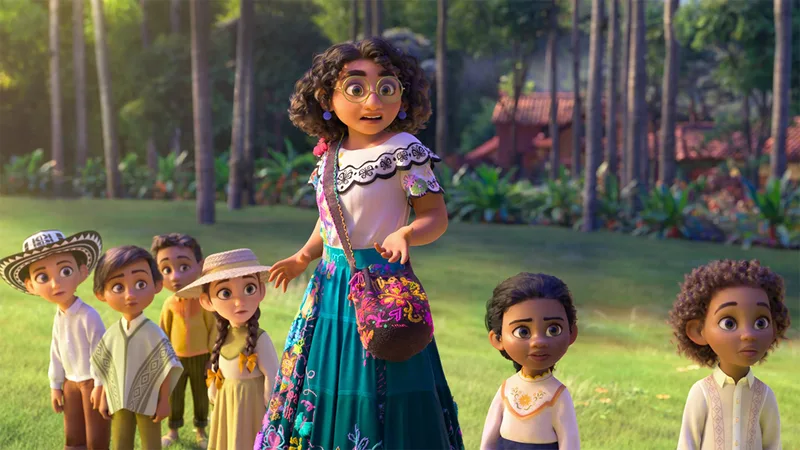 Here are some Mirabel quotes in Encanto that gives us insight into who she is and her role in the Family Madrigal:
"Today's the day I make my family proud." ~ Mirabel
Mirabel is the most authentic Madrigal grandchild, and yet, her dysfunctional thinking lies in still wanting to make her family proud – to gain her abuela's approval.
"And that's why coffee is for grown-ups." ~ Mirabel
Like Bruno, Mirabel is not afraid of saying what's on her mind. 
"I will never be good enough for you, will I?" ~ Mirabel
Mirabel's only wound is that Abuela Madrigal wants her to be someone who she is not. She would love her abuela to love her for who she is but is willing to let go of abuela's approval to be herself.
"Sometimes family weirdos get a bad rap." ~ Mirabel
Mirabel embraces herself for being different, which allows her to embrace others for who they are.
"Even in our darkest moments, there's light where you least expect it." ~ Mirabel
Mirabel wants to believe that everything has a purpose, even though she struggles with it sometimes.
"This is my chance. I will save the miracle. Wait. How do I save the miracle?" ~ Mirabel
When you live in dysfunction, you take on the responsibility of what is happening, along with the mission to fix it. 
"I wanted to make the family proud of me. Just once." ~ Mirabel
Mirabel has spent a lot of time in the shock and denial, anger, depression, and bargaining stages of grief, and she's finally starting to find acceptance. It's not her job to make her family proud – it's theirs.
"I don't understand why you left, but you didn't… leave." ~ Mirabel
Meeting Bruno helped Mirabel speak her truth and understand that sometimes distancing yourself from the toxicity is the best you can do – and that it doesn't mean you don't love your family.
"You're the one breaking our home." ~ Mirabel
Mirabel is a disruptor. Her courage to speak up makes her the only one who can break the trauma cycle in her family.
"I just wanted to be something I'm not." ~ Mirabel
Mirabel understands that she can only be herself. And this is what cracks the family and rebuilds it, too.
"I can finally see." ~ Mirabel
When you process all your emotions, you are able to see things clearly, beyond the glorification and the demonization of the people in your life story.
"We were saved because of you." ~ Mirabel
When Abuela Alma shares her authentic story and her raw pain, Mirabel is able to see her strength and her sacrifice.
"Nothing can ever be broken that we can't fix… together." ~ Mirabel
Mirabel and Abuela's room doors are opposite from one another, just as their views seem opposite from each other. In reality, they are more similar than they thought and both of their perspectives will save the family.
"If it was all in my head, how did I cut my hand?" ~ Mirabel
Gaslighting is a common element of a dysfunctional relationship. Mirabel knows she is hurt and her heart tells her what she is feeling is right, but everyone around her tells her everything is fine.
"Gift or no gift, I'm just as special as the rest of my family." ~ Mirabel
Mirabel uses mantras and positive affirmations to reassure herself. That works temporarily, but in order to heal her trauma, it's necessary to go deeper than that!
"I see… me." ~ Mirabel
Self-acceptance breaks cycles and brings peace. <3
"Just going to save the miracle with a hug." ~ Mirabel
Mirabel cannot save or change her family, but she can take personal responsibility for what she can change: herself. Her envy and resentment toward Isabela is her own dysfunction.
"You don't have to worry about me, because I have an amazing family." ~ Mirabel
This phrase denotes Mirabel's compliance with Abuela's belief that her worth depends on how amazing her family is. This is her go-to when others worry about her.
Bruno Madrigal
Voiced by John Leguizamo, Bruno Madrigal has been estranged from the Madrigal family for as long as Mirabel can remember.  
In the film, Bruno has the ability to see the future, so obviously, his character represents the future of the family. A fun fact is that there are always butterflies in his visions! 
Bruno tells it like it is and is honest "to a fault." His doomsaying predictions proved problematic for Abuela and the rest of the family. Bruno disappeared, becoming the uncle no one talks about —unless, of course, they do.
Bruno's symbol is the hourglass, which is on his poncho, and it's the shape of the door to his room door. Bruno's color is green – including his visions. He represents the proverbial black sheep of the family.
In a dysfunctional family, there's always a scapegoat – someone to blame for everything "bad" that happens. He represents the person who has the vision to see what will happen down the road and is not afraid to speak up. 
A common saying in our culture is that everyone has a "tío loco" (crazy uncle), and that is Bruno, because he has different beliefs than everyone.
Bruno and Mirabel
Before the children receive their gifts, they all wear white (with butterfly accents).
After they receive their gifts, their outfit changes to reflect their gifts. This allegory means that children are a blank canvas and, as they grow, they take on the role the authoritative adults assign. 
This didn't happen with Mirabel – she didn't conform, and Bruno could foresee that Abuela was not going to be able to break this little one.
These are some of the memorable lines by Bruno in Encanto:
I used to say my real gift is "acting"! ~ Bruno
Bruno is acknowledging to Mirabel that he used to suppress his real self and that it didn't work out.
You're the real gift, kid. Let us in. ~ Bruno
Bruno knew all along that Mirabel had the courage, perspective, and determination to confront her abuela. Mirabel was the pioneer who started her family on the journey of recovery, just like the metamorphosis of the caterpillar into a butterfly.
I feel like I missed something… ~ Bruno
Bruno loves his mother and she is now embracing "the future." However, if there's something I have learned about trauma is that when what you wanted to happen happens, there's a part of you that is questioning whether you can trust it or not.
Mirabel, the fate of the family is gonna come down to you. ~ Bruno
This one is tricky. The fate of the family is not Mirabel's responsibility. However, the only way she can change her family is by embracing her own future.
My gift wasn't helping the family, but I love my family. ~ Bruno
Sometimes it seems that no matter what we do, we don't just not fit in but we also mess things up. Feeling like a disappointment for an extended period of time can take a toll on you until you just give up and stop trying. Bruno was shunned by his family.
I'm Hernando, and I'm afraid of nothing. ~ Bruno 
Bruno has been isolated from the family so long that he doesn't seem to make sense.
The "We don't talk about Bruno," line also can refer to those family members who have been shunned because of a condition or addiction that carries a stigma, which the family does not want to address or acknowledge. 
How do you help a family miracle? You hug a sister. ~ Bruno
Helping the family miracle is code for breaking the family trauma cycle. Until Mirabel was able to make up with Isabela, she could not inspire change in anyone else. 
It wasn't a prophecy. ~ Bruno
Bruno clarified to Pepa that he wasn't predicting the future during her wedding. He was just pointing out the obvious. Bruno's visions were simply things you could easily see coming: a goldfish dying, someone losing their hair, or gaining some extra belly weight.
Pepa Madrigal
Pepa is voiced by Carolina Gaitan. The sun, her symbol, is featured on her earrings and on the collar around her dress as rays of sunshine. Her family's attire is influenced by this – they all wear warm colors: yellow, orange, and red. 
Pepa's mood affects the weather – and this is her "gift." It represents the present of the Madrigal Family, where everyone is trying to suppress their emotions and pretend that everything is okay. 
Clear skies. Clear skies. Clear skies. ~ Pepa 
Trauma is created by suppressing emotions… and this is what Pepa is best at. 
We don't talk about Bruno. ~ Pepa 
Pepa loves her brother Bruno. She won't talk about him because she needs to keep her feelings in check. Bruno represents that person who embodies the family pain, so if she just pretends he doesn't exist, then she can pretend her pain doesn't either.
Julieta Madrigal
Julieta Madrigal is Maribel's mom – voiced by Angie Cepeda. Her symbol is the heart because her gift is being a healer. Her dress has a mortar and pestle in the front, as well as healing hands, and herbs. Each of these features an element with a heart on it, to represent her Caretaker role.
Julieta represents the past that the Family Madrigal has endured. She heals everything with food, which can be interpreted as "a bandaid," just like any other way to numb emotional pain.
Julieta's family wears cool colors; blue and purple shades. It seems that Abuela Alma is easier on Pepa's children than on Julieta's, because Julieta conforms and neglects herself, but Pepa has to be constantly reminded to keep her emotions at bay. 
Some of the most memorable Julieta's quotes in Encanto are:
You're just as special as anyone else in this family. ~ Julieta
Julieta tries to be as encouraging and loving to her daughters as possible. However, she wants to please her mother and go along to get along.
What I think is that today was very hard for you. ~ Julieta
Julieta invalidates her daughter Mirabel. Even though she wants Mirabel to feel loved and special, she inherited Abuela Alma's desire to protect the family name and image by pretending that nothing is wrong – or even worse, unknowingly implying that Mirabel is too sensitive.
My brother Bruno lost his way in this family. I don't want the same for you. ~ Julieta
Julieta loves Bruno. Her invalidation and gaslighting to Mirabel come from a sense of wanting to protect her from being ostracized from the family. She is afraid for her daughter, but nothing good comes from acting out of fear.
Agustin Madrigal
Voiced by Wilmer Valderrama, Agustin Madrigal is Julieta's husband and Mirabel's father. Agustin is clumsy, accident-prone, very supportive, encouraging, and laid back. Mirabel is a lot like him that way.
You got your party pants on? ~ Agustin 
Agustin is always making sure Mirabel is okay and enjoying herself. This also shows a "life of the party" tendency.
No one will know. No one has to know. ~ Augustin
Agustin believes in Mirabel.  He relates to his daughter because he doesn't have a gift and is "un-ceptional" like her. But, he is also trying to keep things quiet, to keep the peace in the family.
¡Miércoles! ~ Agustin
This word literally means "Wednesday," but the expression is used to swear in Spanish when something is going wrong. 
Félix Madrigal
Félix Madrigal, voiced by Mauro Castillo, is Pepa's husband. He calls her Pepi, which is very sweet. He is a very loving and understanding husband. His dysfunction lies in being the life of the party: never showing pain to try to make everyone happy.
The magic is in danger. We got to get out of here.~ Félix 
Félix is very protective of his children and his Pepi, though he knows Abuela runs the show (as implied in the wedding story where she was the one who got the umbrella).
Camilo, fix your face. ~ Félix  
Félix also wants to play his part in making things as perfect as Abuela Alma wants them. When she is present, he corrects his children so they do the same.
He would see something terrible, and then, BOOM! It would happen. ~ Félix 
When Abuela is not around, Félix expresses his truth and emotions. He is another un-ceptional Madrigal, so he can see what others can't see in the family structure.
She need to know Pepi, she need to know. ~ Félix 
Félix knows that in order to break the generational curse, the children are going to have to know what happened and choose their own path.
Dolores Madrigal
Adassa Candiani voices Dolores. Her attire has the symbol of Sound Waves. She can hear a pin drop, they say. There's always that one person in the family that in my culture we call "la chismosa." This family member knows everyone's business. 
Some of my favorite Encanto movie lines by Dolores are:
I know. ~ Dolores
These two words make up Dolores' epic phrase. She's the one who hears everything, so she can tell you everything. This is how they feel "seen."
The only one worried about the magic is you. ~ Dolores
Dolores, whose name means "pains" in Spanish, knows of everyone's pains. Even though she knew Mirabel was the only one talking about her worry, she knew others manifested it in different ways.
Camilo Madrigal
Camilo's name sounds like "camaleón," which means "chameleon." This is his symbol because he is a shapeshifter. Rhenzy Féliz is the voice of Camilo in Encanto.
The significance of this is not only his people pleaser and Yes Person identity, but his codependency in adapting to other people so he can survive.
He cracks when situations are stressful by reverting to a "baby," which is understandable by the age gap between him and Antonio. This is taking on the part of "Underachiever," because he makes himself invisible to avoid the shame of failure in a family that glorifies success.
This is my favorite Camilo quote:
We don't have a house. ~ Camilo
This phrase denotes that Camilo starts to speak up after the family transformation that takes place when Abuela and Mirabel's confrontation.
Antonio Madrigal
Ravi Cabot-Conyers is the voice of Antonio. The youngest Madrigal, whose symbols are animals. Before his gift is revealed, he shares a room with Mirabel and they are very close.
Because of Mirabel's influence, Antonio is a healthy communicator. 
His room features animals native to Colombia: like the capybara, coati, tapir, sword-billed hummingbird, jaguar, and others.
These Antonio quotes in Encanto reveal his predetermined role within the extended family:
I need you! ~ Antonio
Antonio is vulnerable and not afraid to ask for help, which is a healthy trait. Not being comfortable asking for help is a trauma response.
The rats told me everything. ~ Antonio
I loved this quote because it shows that Antonio communicates with animals who are considered beautiful and with animals who are considered dirty. He is non-judgmental, open-minded, and open-hearted.
What if it doesn't work? ~ Antonio
Antonio knows that Mirabel did not get a gift, so he is worried he will live her fate. Mirabel is the only one who has been through that, which makes her a great friend and supporter. 
You can tell that Abuela Alma settles for Antonio's gift because she is not pleased with it entirely. She has to uphold the family reputation by having gifted family members.
The Madrigal Family Transformation
Encanto is the story of the Madrigal Family in its cocoon. The contrast is clear in the perfect family picture during Mirabel's "Waiting for a Miracle" song, to the family photo at the end – joyful and imperfect.
They go from striving hard to belong to finally being accepted as who they are, unconditionally.
I'm going to end the Encanto quotes with some references by Encanto Community Members:
Last gift ceremony was a bummer – last one being yours. ~ Delivery Man
It might seem that the community members treat Mirabel like a disappointment and have no tact. However, they are simply acknowledging true events that are casual to them. 
JUST TELL US WHAT EVERYONE CAN DO! ~ Boy Addicted to Caffeine
Trauma doesn't just affect one family. When society glorifies overachieving members, that becomes others' fascination and aspiration.
Maybe your gift is being in denial. ~ Cecilia
It's easy for outsiders to see the trauma behavior, but it's harder when you are in it. Even for Mirabel with her glasses, because they look out when Bruno actually helped her look within.
Breaking the Trauma Cycle
The cycle of trauma can break when everyone sees themselves as they truly are. When everyone shares their side of the story with each other.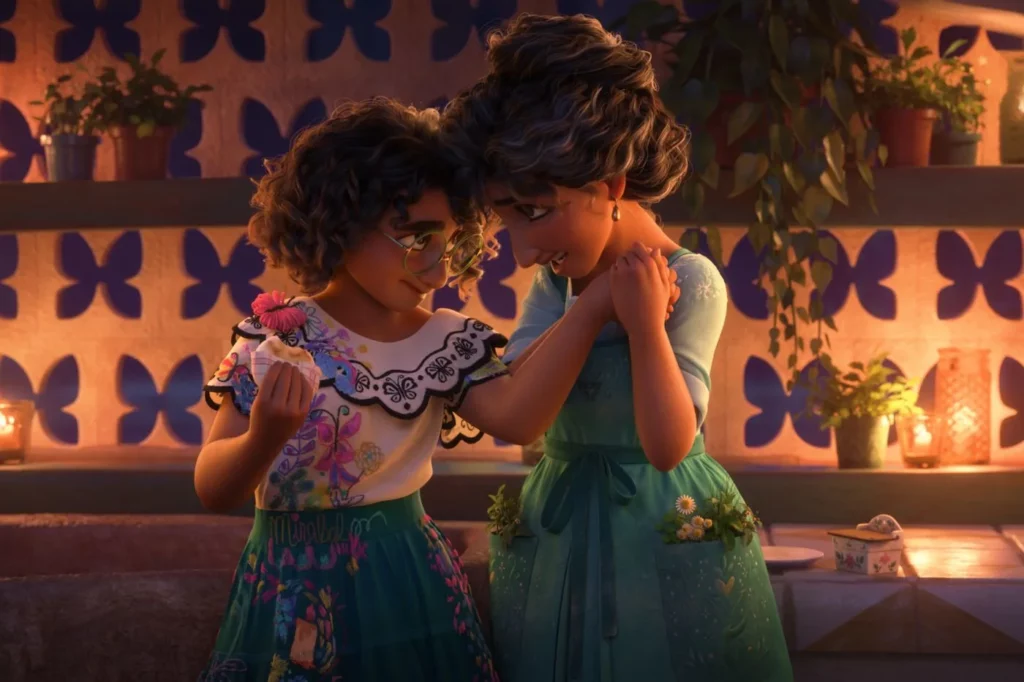 When Mirabel extends empathy to Isabela and Abuela Alma, she is able to see herself. Mira (look!) helps Abuela open her eyes to the hurt she has caused, while Alma helps her granddaughter see the hurt she's been through.
This brings us to the most important quote in Encanto:
You lost your home. Lost everything. You suffered so much. All alone. So it would never happen again
When we look at brokenness (our own and someone else's) with compassion is when these cycles are broken.
With the denial being gone and everyone opening their eyes to the truth of their humanity, the facade falls apart. It's the cocoon that gives room for transformation: a new family where everyone belongs.
There are so many reminders and so much to learn in Encanto. It is inspiring to know that no matter how long we have held on to false beliefs and toxic traits, we can recover and become healthier and healthier as individuals and families.
In the words of co-director and co-screenplay writer Charise Castro Smith, Encanto is about "seeing that people in our families are more complex than these masks we put on them."
This is my new favorite Disney movie and I hope that it wins all the gold!
Did I miss one of your favorite Encanto movie quotes? Drop it in the comments below.

© Elayna Fernández ~ The Positive MOM
Be sure to Subscribe to blog post updates, so you never miss a thing!