I recently had the opportunity to speak again at Rocks Digital, a digital marketing conference in the Dallas Fort Worth area.
I was invited to deliver a Rocks Talk, which is like a TEDx Talk, except it focuses on digital marketing.
I've been attending and speaking at Rocks Digital with my family for many years and it was great to learn, reconnect with longtime friends, and make new ones, too. 
Lissa Duty has been organizing the Rocks Digital event for 10 years now and she does a superb job of gathering brilliant marketing minds and putting on a fun conference for speakers, sponsors, and attendees.
It was a bit of digital marketing heaven with lots of talks and panels sharing valuable information about content marketing, social media marketing, search engine optimization (SEO), and other relevant topics for entrepreneurs, small businesses, and marketing agency leaders.  
I love speaking from the stage, connecting with the audience, and feeling their energy as I speak, teach, and train.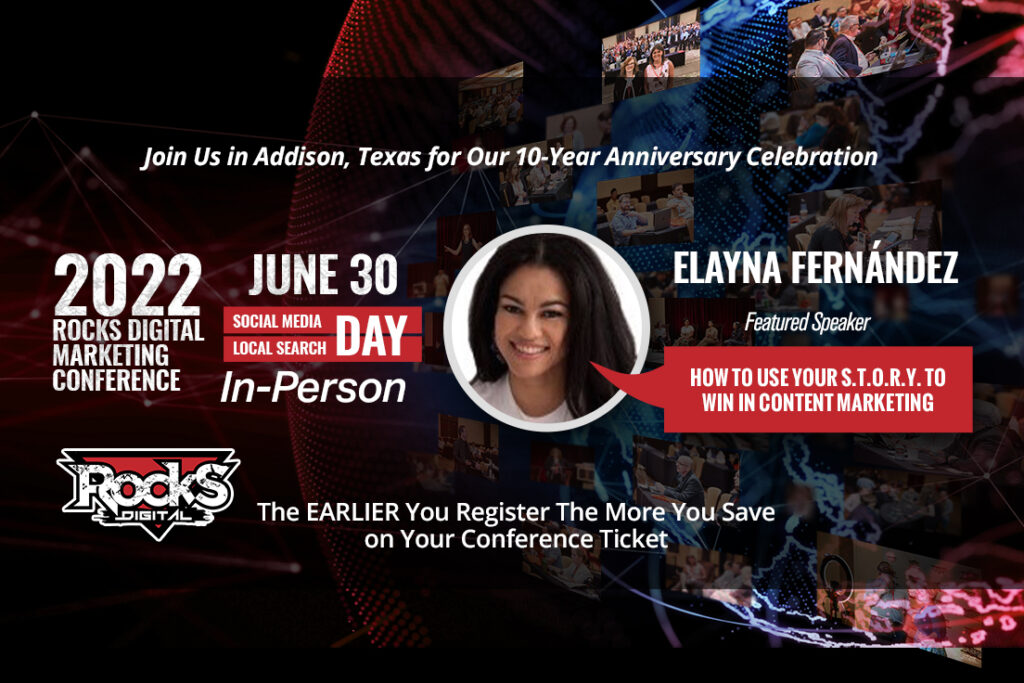 My topic this year was "How to Use Your S.T.O.R.Y. to Win at Content Marketing," and naturally, I opened my talk by sharing one of my signature stories. 
But what is a signature story?
A signature story is simply a narrative about you that you tell with a specific purpose and with the desired outcome in mind. Whenever you tell your own story in a strategic way, you are sharing a signature story.
I'm going to be sharing everything you need to know about crafting a signature story (or a few) in a strategic way that positions your knowledge, experience, and expertise.
And what is a story?
A story is an account of something that happened. Of course, this could be a fictional story or a true story, but nonetheless, it is that simple.
Of course, there is a right way and a wrong way to tell a story. A well-told story has a beginning, a middle, and an end. And no, it doesn't need to have a happy ending.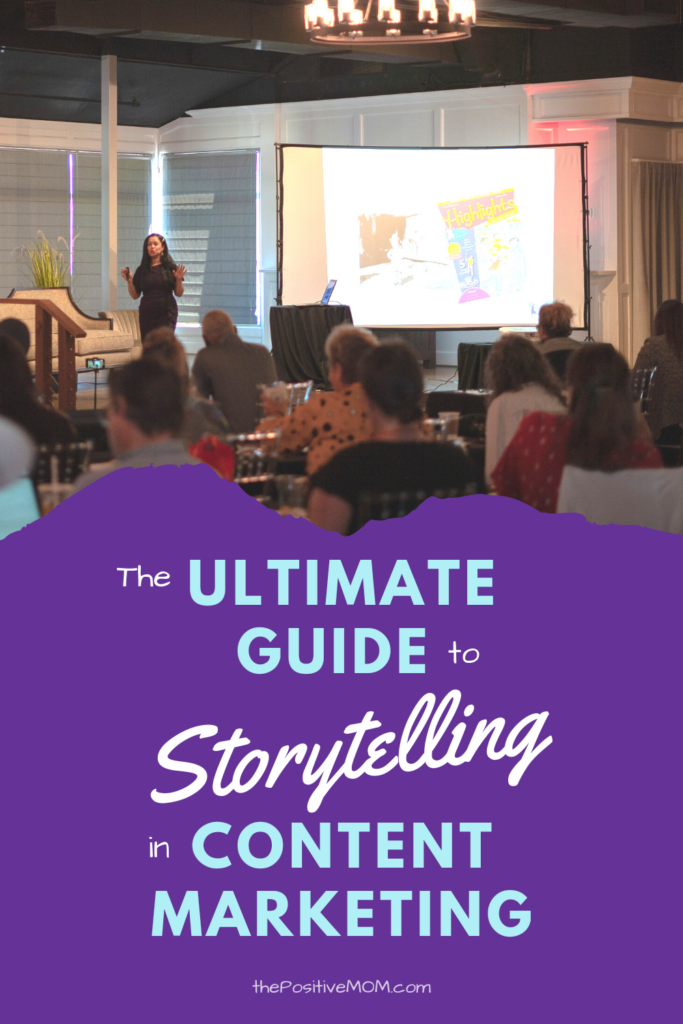 We'll explore other elements of good storytelling so you can win at content marketing. But for now, I'm just going to say this:
Whether you know it or not, you are a natural storyteller.
Your brain is wired for storytelling.
You tell stories every day.
You tell stories to others… and even to yourself.
Why is storytelling important to content marketing?
It's easy to see how stories are part of our everyday lives, but sometimes it doesn't seem exactly clear how to use those stories as business owners, in the first place.
I'm sure you would agree that marketing is messaging. Storytelling is the intentional process of sharing messages through a story.
According to the Content Marketing Institute Blog, content marketing is the right content, in front of the right people, at the right time, for the right reasons.
In content marketing, storytelling is the process of using a narrative to connect with your audience.
Bryan Eisenberg, author of Be Like Amazon, said very eloquently why we do that:
"Effective content marketing is about mastering the art of storytelling. Facts tell, but stories sell."
So as we weave the right stories within our content, we will create messaging that helps us sell our products, services, and other offerings. It's the best of both worlds!
What is the purpose of storytelling?
The purpose of storytelling in marketing is to craft a story that conveys a helpful, valuable, and useful message to your audience in the form of a narrative. 
So we use storytelling in content marketing because we want our content to create an emotional connection that has the power to inspire and move your audience to action. Every piece of content must do that in order to produce the results you want.
According to Search Engine Watch, the use of effective storytelling can boost a company's conversion rate by 30 percent. 
Let's illustrate this concept, by talking about the Significant Objects Project. When I told this story at Rocks Digital, some members of the audience gasped! 
The Significant Objects Project
There was a man who bought 200 random and ordinary items and spent a total of $129. 
He proceeded to then create a story around each item. He listed each item individually on eBay, adding the story to the description.
He sold all 200 items for a total amount of $8,000.
My math is not very good-looking, but that's a great return on investment. And by investment, I mean this man's investment in the power of storytelling. 
The moral of this story is that storytelling is the best way to communicate the value of what you are offering, because stories, unlike facts, features, and figures alone, evoke emotion that persuades people to take action.
When you enhance your content (blog posts, newsletters or messages to your email list, infographics, video content, newsletters, landing pages, press releases, case studies, templates, checklists, courses, ebooks, social media posts, podcast episodes, etc.) with a well-told emotional story that engages emotions, you can connect, captivate, and convert your audience.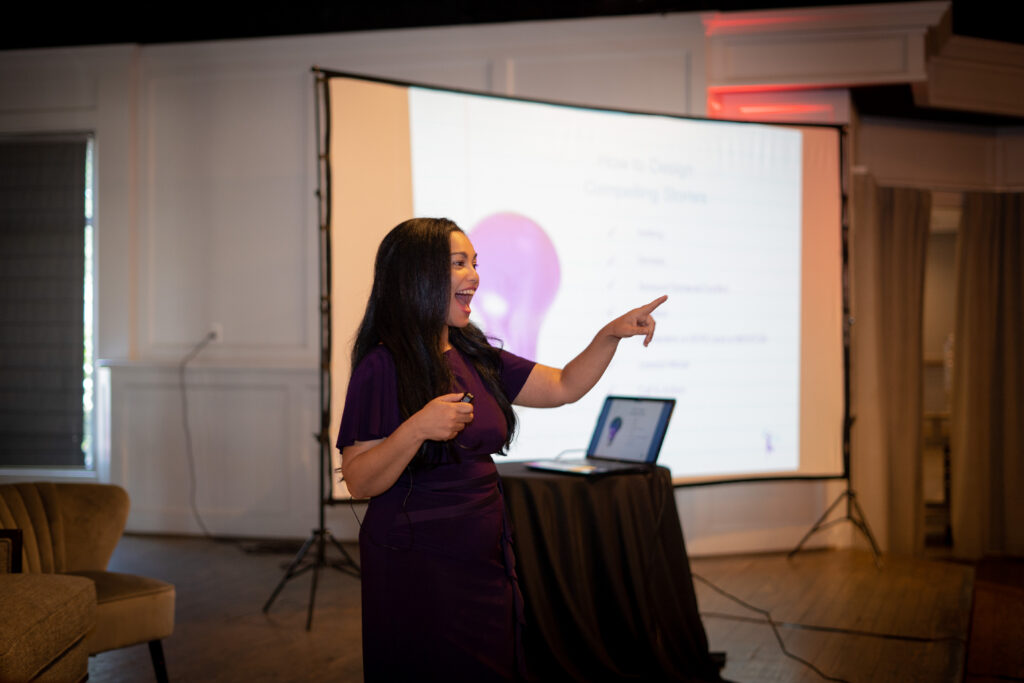 Storytelling is the most powerful tool we can use as content marketers. Stories have the power to create an emotional connection with your target audience. 
According to the Harvard Business Review, emotional connections create brand loyalty, and other studies reveal that customers will recommend a brand when they feel an emotional connection with it.
This is why storytelling matters in your content marketing ideation, creation, and promotion.
I share personal stories in each and every one of my blog posts and in all the pieces of content on my social media platforms. This human connection is definitely the secret to my success as a digital entrepreneur.
Telling good stories is the best way to elicit an emotional response in your potential customers and increase your conversion rates.
Story Marketing
Storytelling is the best way to leverage your content creation. What does this mean? Great content includes great stories. Your stories are yours, so storytelling is a great way to create original content. You can also tell others' stories in a unique way!
And as you know, your content marketing strategy has two components: content and marketing.
When you make the promotion about the story, you can create intrigue, curiosity, and a way to capture your audience's attention.
This is called Story Marketing.
Story Marketing is about creating a narrative that connects with your audience in effective ways and on a deep level so they get to know you, like you, and trust you.
Storytelling Makes Marketing Easy
Think about it:
Stories are sharable.
Stories are magnetic.
Stories are engaging.
Stories are relatable.
Stories are memorable.
Stanford Marketing Professor Jennifer Aaker told us that "stories are remembered about 22 times more than facts alone."
Data is important but stories have a great effect on our brains, which in turn influences our decisions.
The Importance of Storytelling In Marketing
An impactful story gives your audience an understanding of who you are, what your values are, and how much you care about them. 
Remember the old saying by Maya Angelou:
People don't care how much you know until they know how much you care!
To translate this into a content marketer's terms:
People don't want more content, they want better content. They want value, not volume. They want to feel like they are seen, heard, and cared for.
Because they are humans.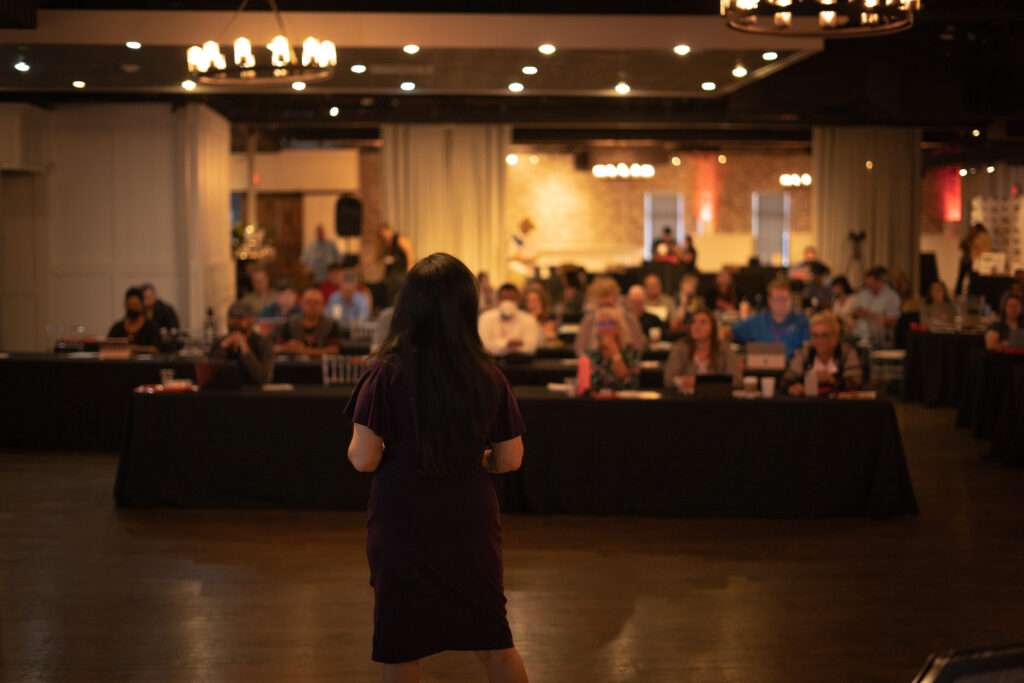 Even though I'm "all about that SEO," it's essential to make sure your content marketing has a human element that demonstrates that you care about your audience's needs. 
It's not enough to build great SEO content when your bounce rate is off the charts. To keep people on your website, and drive them to action, you must add compelling stories that mirror their personal experiences and real-life struggles.
My mentor, Jay Conrad Levinson, used to define marketing as "every interaction someone has with you." Stories make marketing easy because they make these interactions count.
Benefits of Storytelling In Content Marketing
At a time when people are exposed to so much information and an excessive amount of ads, stories are easy to consume and hard to scroll past, tap, swipe, or click away from.
As you use content marketing storytelling, you can connect with your ideal customer. You can meet your audience's needs at a deeper level, and you will see great results.
When done well, telling a story can help:
Gain more brand awareness
Build trust and a stronger bond with your audience
Create brand loyalty
Reduce promotional costs
Boost your sales
Grow your profits
Investing in your storytelling strategy will pay off both short-term and long-term. Give it a try as soon as possible!
Leveraging The 4 Types of Storytelling
As the world evolves, our ways to tell stories have evolved, too. But the principles of storytelling remain the same.
Of course, there are different ways to tell a compelling story. When executed well, it's able to elicit an emotional response that can shift beliefs and change behavior. 
Storytelling is not only a powerful way to relay information to an audience. It's a human experience that can create strong bonds and meaningful relationships.
Spoken storytelling:
Since ancient times, great storytellers would use the spoken word in the form of a story to build trust and connect with real people at an emotional level. I love traveling and speaking to audiences all over the world. But you don't need to just be a platform speaker. You can incorporate audio and video into your content marketing strategy. This includes radio, podcast, or an embedded audio or video version of your blog post.
Visual storytelling:
Visual storytelling is an ancient art. When I was 7 years old, visual storytelling changed my life… I was inspired by a picture and I didn't have to understand the words to understand the message. This is now my origin story. That's why they say a picture is worth a thousand words.
Some visual storytelling examples are your pictures, charts, animations, photo essays, and infographics. Visual content is a simple, yet powerful way to tell your story. 
Written storytelling:
There are records of written stories as old as written symbols and words. Every piece of new content you write must include a story. But don't limit yourself to thinking about blog articles. You must sprinkle stories on your social media captions.
Publishing books and ebooks is a great way to position yourself as an authority in your field. I am still working on my New York Times bestseller, but I am proud of the books I have published. Having the opportunity of telling stories that impact people is deeply meaningful to me.
Digital storytelling:
The digital campfire, as I like to call it, is the best place to share stories.
The advent of the Internet has transformed storytelling and stories matter more than ever. We can share stories with the click of a button. We have the power to leverage our brand's story across several channels.
Your content marketing efforts will yield brand awareness, traffic, and conversion goals through the power of stories. 
The Science of Storytelling
Science tells us that when the brain processes information, it translates it into pictures and narratives. 
When you see the word SCHOOL right now on your screen, do you picture the school you attended? Or maybe the school your child goes to? And do you notice an emotional reaction to this word? 
Whether pleasant or painful, this emotion is triggered by the story you've attached to the word. We all turn our experiences into stories.
According to a study, a well-told story makes us feel as if we are actually experiencing it ourselves. This is because oxytocin – a neurotransmitter that elicits positive reciprocal behavior – is released. 
When we hear a good story our levels of oxytocin are increased. That's when we start to feel emotions such as empathy, compassion, and cooperation. 
This is not surprising to me because I get so involved and invested in stories (movies – even animated ones -, inspirational talks, songs, or slam poetry, that my emotions and body sensations get really intense. 
Telling Stories That Stick
Storytelling is about language, and yet, it's not about vocabulary. And it's sure not a matter of cleverness or even craftiness.
Think about Jesus of Nazareth. His parables, metaphors, analogies, and simple words, all struck a chord. In his stories, we can find simple structures and themes that the listeners could easily understand.
If you haven't read the New Testament in the Bible, perhaps you're familiar with Aesop's fables. The use of elements and characters that are familiar to your audience makes a difference. It is the distinction between a vague story and a story that feels like it's meant for you.
In fact, I look back at all the years I've been blogging and when I have seen many people quit blogging, I know the one thing that keeps me going is the feedback I get from my readers and followers. They are so grateful for the stories I share and often comment that this message feels like it's "just for them." It is!
What makes a good story?
Perhaps you're asking:
How do you design compelling stories that capture your audience's attention and engagement? The answer is quite simple.
Just like great books, and great movies, story marketing is done through the hero's journey. Your task is to create narratives or story arcs in which they can see themselves.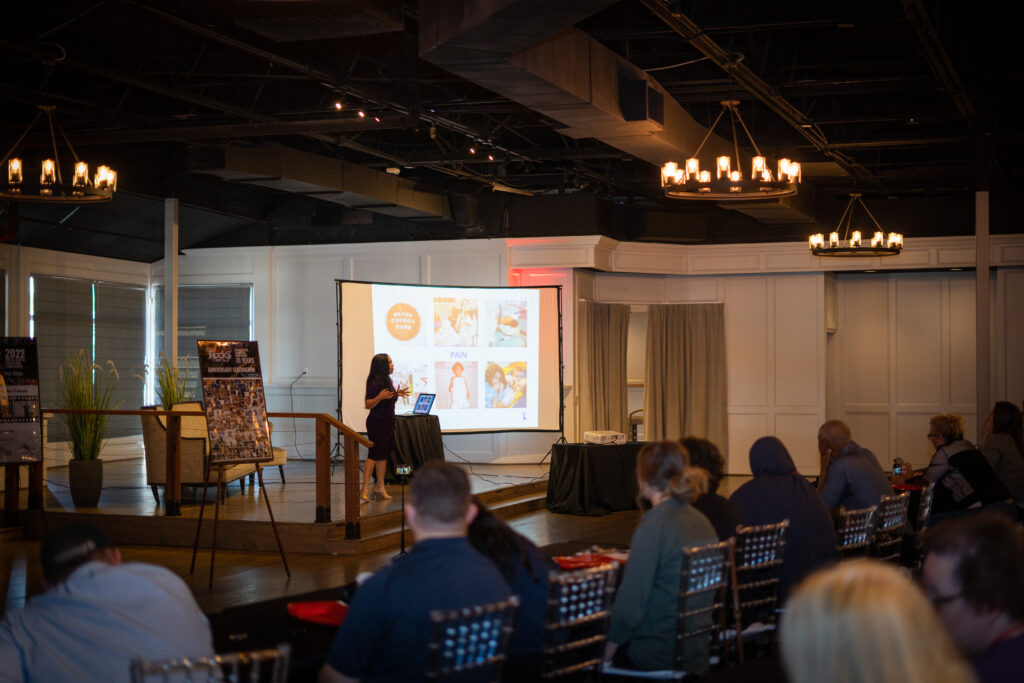 Let's be clear: Your story is not about you. the hero's journey is about your customer, the hero of their story. 
A good story has a relatable character: your audience knows they are the main character and feels part of the narrative.
A good story gives us context: the audience can identify the setting and background.
A good story has a conflict: the audience feels the tension and is able to see the obstacles that prevent the character from meeting their objective.
A good story includes change: the character goes through a transformation after rising through the challenge, whether they achieve their goal or not.
A good story has consequences: the story shows tangible outcomes that came from the actions the character took.
Questions and Best Practices for business storytelling
When you're designing a content marketing campaign, consider these questions to showcase your brand storytelling:
Why do you do what you do? Share your origin story – the story of why your brand exists.
What are your brand core values? Share stories that demonstrate those values.
What is your value proposition? Share stories that illustrate what you do and how you do it. 
Who is your audience? Sharing a case study, a testimonial, a customer comment, or a post can show social proof and attract customers. Telling customers stories showing how you helped them solve their problems or meet their needs will help you influence them.
Who is your team? Share written stories or videos to introduce the real-life people behind the brand and the efforts behind the scenes.
The answers to these questions will help you craft your brand's story. Integrate this story into your content strategy in a way that will create a personal connection with your target market.
The Power Of Storytelling In Content Marketing
If you haven't yet used storytelling as part of your content strategy, you're missing out on a powerful tool. Using Story Marketing can radically and positively impact your business.
I encourage you to start creating stories that captivate and engage your audience. Just as we saw in the Significant Objects Project, everything has its own special story. And that story can trigger emotions that can help your audience fall in love with your brand.
I also encourage you to check out the #RocksDigital hashtag on social. This way, you can be part of the fun and the learning that happened during the conference.
I'm so grateful for all the positive comments I've received about my Rocks Talk and for all the love from fellow speakers and attendees!
I hope to see you there next year!
How will you use your story to win in content marketing? Share your strategies in the comments section below.


My mission is to help moms find peace, break cycles, and feel whole so they can be present, peaceful, and positive moms. To receive a gift that can get you started on that journey click HERE.