These deals are so good, they won't stay around long! Add these new favorites to your library before the bargains disappear, or view all of this week's deals.
***
Just Do Something: A Liberating Approach to Finding God's Will
With pastoral wisdom and tasteful wit, Kevin DeYoung debunks unbiblical ways of understanding God's will and constructs a simple but biblical alternative: live like Christ. He exposes the frustrations of our waiting games and unfolds the freedom of finding God's will in Scripture and then simply doing it.

$8.99  $3.99
Read more


Your Best Year Ever: A 5-Step Plan for Achieving Your Most Important Goals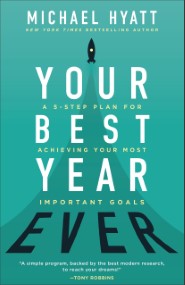 In Your Best Year Ever, Michael Hyatt shares a powerful, research-driven system for setting and achieving goals. Readers learn how to design their best year ever in just five hours, including three simple ways to triple the likelihood of achieving their goals, how to quit-proof their goals, what to do when they feel stuck, and much more.

$24.99  $1.99
Read more
8 Habits for Growth: A Simple Guide to Becoming More Like Christ
In 8 Habits for Growth, Darryl Dash reveals the eight long-term practices—all very doable—that lead to permanent growth. Personal growth doesn't happen overnight. But it does happen, slowly, God's habits are built into life.

$11.99  $5.99
Read more
The Powerful Purpose of Introverts: Why the World Needs You to Be You
In this transformative book, Holley Gerth dives into the brain science behind introversion to help readers understand the psychological, relational, and spiritual aspects of being an introvert. She explores how introverts can make meaningful connections, experience quiet confidence, cultivate soul-filling solitude, exercise unexpected influence, and much more.

$16.99  $1.99
Read more
***
Come back each week for a fresh batch of massively discounted books that explore God's Word and the Christian life. For even more savings, check out our other books on sale!