Overview
dynaCERT Inc. (TSX:DYA,OTCQX:DYFSF,FRA:DMJ) is a Canadian company with a global solution to reduce pollution. The company has developed the next generation of carbon emission reduction technology for diesel engines in the global market, providing significant fuel savings to the operator. dynaCERT's verified HydraGENTMtechnology uses a proprietary electrolysis system to turn distilled water into hydrogen and oxygen gases on demand.
HydraGENTM is currently sold in North America and Europe for use in on-road applications and diesel generators. Third-party validated testing results show that HydraGENTM is a unique technology with the ability to reduce greenhouse gas emissions by up to 50 percent and enhance fuel efficiency by up to 19.2 percent for diesel engines of all sizes. The company's strategy is to expand internationally while developing numerous applications of its HydraGENTM technology in multiple vertical markets.
"dynaCERT has established a unique and diversified team around the world, in different jurisdictions, aimed at numerous vertical markets," said dynaCERT President and CEO Jim Payne. "We have prepared for a future of our proud Canadian company based in Toronto to market its revolutionary technology around the world."
dynaCERT's technology is designed for use with all types and sizes of diesel engines used in on-road vehicles, reefer trailers, off-road construction, power generation, mining equipment, forestry equipment, marine vessels and railroad locomotives. Through partnerships with industry leaders, major corporations and government bodies, dynaCERT is strengthening its position in the trucking industry while expanding into the light truck, rail, marine and stationary generator markets.
In April 2018, dynaCERT started the Type Approval under Transport Canada and Lloyds Register policies for equipment on marine vessels under the Safety of Life at Sea rules and regulations.
dynaCERT is also targeting the global mining industry as a key market for its technology. HydraGENTM Technology recently earned approval for underground mining applications in Canada. The mining industry is highly dependent on diesel fuel at a time when many mining firms are looking for ways to be more environmentally sustainable. The company showcased HydraGENTM technology at the 2019 Prospectors and Developers Association Convention (PDAC), one of the world's largest mining conferences.
dynaCERT is gaining a foothold in the European market with the establishment of a wholly-owned company, dynaCERT GMBH, in Germany. TUV NORD and TUV SUD testing and certification were completed in 2018 and the company recently received its KBA Homologation certification. dynaCERT has secured a dealer in Scotland to distribute the HydraGENTM product line across the UK, and has launched a pilot project in Austria to demonstrate emissions reductions from government diesel-powered vehicles.
In Germany, dynaCERT has partnered with Mosolf SE & CO. AG under an MOU that includes a HydraGENTM technology dealer agreement and a purchase order for 1,000 units in 2020. MOSOLF and its subsidiaries will serve as HydraGENTM dealers with the rights to sell and install the technology throughout the European Union. MOSOLF intends to market the technology to the federal and local government entities in Germany. Due to strong demand, dynaCERTshipped the first of one hundred HydraGENTM units to MOSOLF in November 2019, ahead of the 2020 schedule.
In India, the company already has received iCat certification, earned firm orders, signed LOIs with two provinces and through its dealers is continuing in talks with governments of India about the ways dynaCERT's technology can help address the nation's major air pollution problems. In the Middle East, the company has established relationships with distributors in the key markets of Dubai and Israel.
dynaCERT has also established a presence in Mexico, through its partner KarbonKleen Inc. To date, KarbonKleen has ordered 400 HydraGENTM units for its clients who supply trucking equipment to the largest labor union in Mexico.
Company Highlights
Patented HydraGENTM technology system supplies engines with pure hydrogen and oxygen gases to generate a cleaner, more efficient burn.
Third-party validation and testing results show greenhouse gas emissions reduction up to 50 percent and fuel savings up to 19.2 percent.
Award-winning technology, including 2019 German Innovation Awards for Energy Solutions; first prize at the 2019 Mining Cleantech Challenge in Colorado, Top Gold Award in 2018 Edison Awards for Vehicle Advancements and 2019 Gold Certificate Award from the European Society for Quality Research.
Advancing into European, South Asian and Middle Eastern markets.
dynaCERT has received approval to market, sell, install and use its HydraGENTM technology in Germany and throughout the European Union.
Global-scale carbon credit market strategy.
Establishing market presence in the mining industry with first significant agreement with an original equipment manufacturer.
HydraGENTM Technology recently earned approval for underground mining applications in Canada.
R&D facility for large stationary power generator, marine and rail markets.
Key Projects
Key Technology: HydraGENTM
Delivering carbon emission reduction technologies and cutting-edge solutions for a global market.
dynaCERT's HydraGENTM system is a portable, safe and reliable aftermarket technology that uses distilled water to produce hydrogen and oxygen gases on demand for use in internal combustion engines. The HydraGENTM has the ability to adjust to various concentrations of hydrogen and oxygen mixtures to calibrate the perfect formula for specific engine types, maximizing benefits. The technology is designed with safety features that ensure hydrogen is never stored within the unit nor on board a vehicle.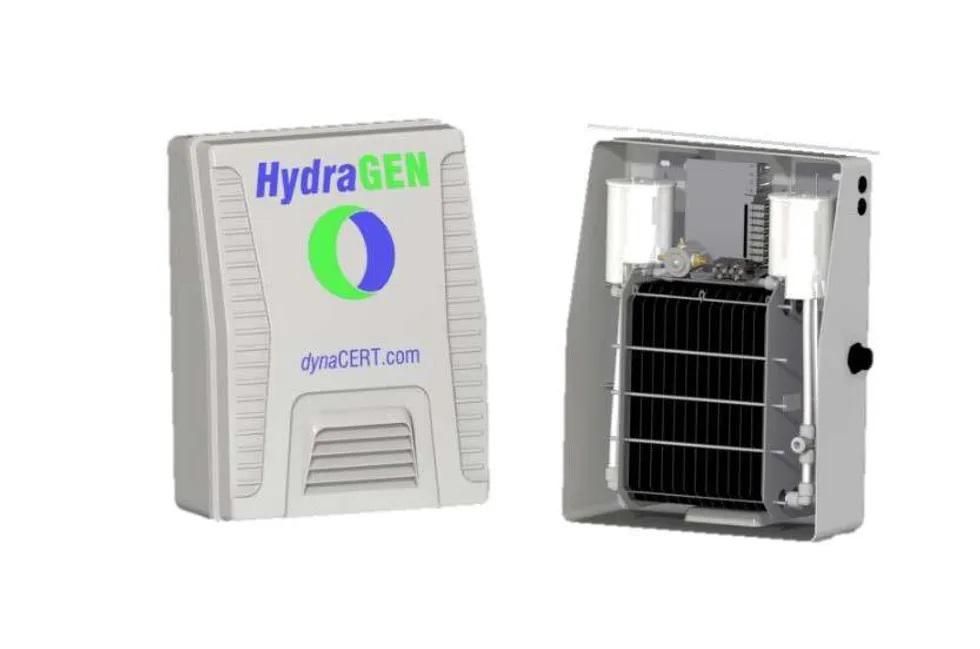 The system includes a smart electronic control unit (ECU) that reads, collects and stores data pertaining to fuel efficacy and emissions. dynaCERT's Smart ECU can interface with the onboard computer of any engine and can be remotely accessed by both the company and end-users, allowing for the monitoring of fuel savings, carbon credits and GPS tracking.
"Our team, led by a former RIM technology expert, has developed a smart ECU that is constantly learning, gathering analytics, and using algorithms to modify the flow of gases depending on the condition variables—climate, altitude, hills, torque, humidity, etc.—to find the sweet spot," said Payne. "That is something that certainly separates us from anything else in the market."
In May 2019, dynaCERT announced it had received a US patent for its SMART ECU and a second patent in August 2019.
"My team and I worked diligently to build the SMART ECU as a first step to be able to control the HydraGENTM Technology products," said dynaCERT Senior Technical Advisor David Bridge. "This patent firmly establishes dynaCERT as a Canadian innovator in the field of carbon emission tracking and carbon credit solutions."
Introducing hydrogen into the air intake of a diesel engine creates a cleaner, more efficient burn.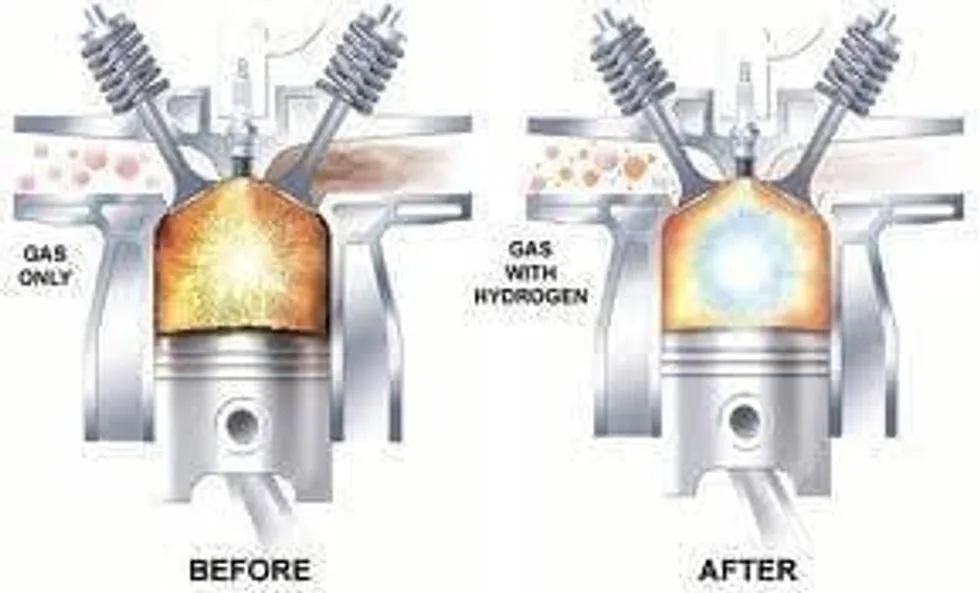 Conventional emission control solutions treat engine exhaust gases after the burn, at the expense of power and fuel economy. The HydraGENTM system treats toxic emissions at the source.
Benefits of the technology include:
increased fuel economy
increased torque
extended engine oil life
significant reduction in carbon emissions
dynaCERT announced lab test results for its HG1 unit for class 8 trucks in November 2016. After 20-plus hours of testing, the Automotive Centre of Excellence (ACE) verified HydraGENTM fuel savings and emissions reductions.
"The HydraGENTM's capability to reach up to 50 percent in the reduction of greenhouse gases and over 19 percent in fuel savings met and exceeded our expectations. Trucks equipped with the HydraGENTM unit can reduce particulate matter by over 65 percent, significantly reducing the black smoke being emitted into the environment," Payne stated.
In October 2016, dynaCERT also took possession of a new 8,000-square-foot facility. The lease expansion provided the capacity to produce 2,000 HydraGENTM units per shift monthly, at a retail price of US$8,750 or US$10,000 once installed.
In August 2019, dynaCERTlaunched its HydraGENTM HG2 line. The HG2 units are smaller and provide similar advantages to the HG1 model. The HG2 unit is ideal for use in smaller diesel engines used in buses, class 2 and class 7 vehicles, refrigerator trailers and containers, mobile construction equipment, small generators and smaller trucks typically found in Europe and India.
Diesel Trucking Market
Carbon emission reduction and increased fuel economy are the HydraGENTM's two most critical features for the transportation industry of today and tomorrow.
The US trucking industry represents an estimated 15.5 million trucks with an average of 192,000 new trucks sold each year and accounts for nearly 13 percent of the nation's total fuel consumption. Fuel is the number one largest fixed cost for the trucking industry.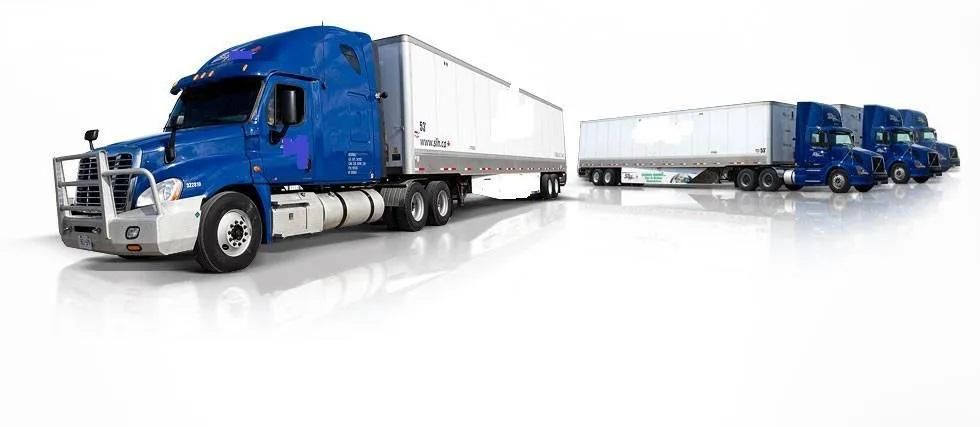 dynaCERT,'s initial HydraGENTM unit design is targeted at transport trucks and is capable of delivering three liters per minute. The system is powered directly from the vehicle's power system for high electrical efficiency. The water reservoir and the rest of the system is contained in a lightweight, impact-resistant, Kraton-modified ABS cabinet that is mounted to the outside of the vehicle.
While initial production is expected to focus on sales to the trucking industry, the company is also poised to become a major supplier of carbon emission reduction technology to the automotive, light-truck, rail, marine and off-grid power sectors.
Fleet management system and application
In December 2016, dynaCERT retained Nektar Data Systems, an international fleet management systems consulting group, to create a fleet management system capable of providing real-time tracking, monitoring, analysis and reporting from data collected by the dynaCERT Smart ECU. Using a portal fully controlled and managed by dynaCERT, HydraGENTM technology users can view their performance in real-time.
To supplement its HydraGENTM technology, dynaCERT has launched a vehicle telematics device software called HydraLyticaTM, which provides easy access to fuel savings and carbon emission reduction reports. The telemetry device allows the company, its dealers and clients to monitor truck engine performance, diesel fuel economy and carbon emission reductions. the calculated savings of diesel and carbon emissions as a truck is traveling. HydraLyticaTM is expected to provide the company with proof to the market that the HydraGENTM technology works as stated.
dynaCERT is working with world-renowned data security software company, Cosario Limited to ensure user privacy with its HydraLyticaTM software. Cosario's management team were pioneers in the same critical data security software which is now used in international payments systems such as Apple Pay and PayPal. By ensuring data security, dynaCERT can stay compliant with the data privacy laws including the European Union's General Data Protection Regulation.
Carbon Credits
In March 2019, dynaCERT initiated carbon credit applications for its HydraGENTM technology. It is estimated that a Class 8 truck traveling long haul routes can generate up to $1,500 euros per year (C$2,278 per year) in carbon credits based on the current market price of $15 euros per tonne of carbon dioxide. dynaCERT's goal is to create a world-wide program to enable any earned carbon credits to be shared with end-users of its HydraGENTM technology under a contractual subscription program.
dynaCERT's innovative proprietary software algorithms in its SMART ECU2 can track the creation of carbon credits. The company has added successful fintech entrepreneur Brian Semkiw to its advisory board. Semkiw recently engaged his organization, 3rdGP, to further develop software that will enable the tracking of carbon credits generated by dynaCERT's HydraGENTM technology. 3rdGP is the world's first third-generation processing payments company with an emphasis on blockchain and IoT payments processing solutions.
Large stationary power generator, rail and marine markets
dynaCERT has designed a 300 liter per minute HydraGENTM unit for use in large stationary power generation combustion engines for the utilities, rail and marine industries. Nearly three-quarters of installed generating capacity in the Caribbean is diesel-engine based. Wartsila engines are commonly used on transport shipping vessels. Outfitting just one cargo ship could generate close to $1 million in sales. Globally, there are more than 90,000 commercial cargo ships in operation today.
dynaCERT is currently in discussions with mining producers operating globally to employ the HG145-6C technology on their equipment, machinery and mine-site generating stations. The HG145-6C is a multi-cell unit developed by dynaCERT for installation on larger diesel engines used in heavy industry, construction, ships, rail, mining, oil and gas and stationary generators world-wide.
Through its dealer, H2 Tek, the company received an initial order for three HG145-6C large engine HydraGENTM technology products from an international leader in mining for deployment in a large Brazilian open-pit mine as well as another mining company in Argentina. The client is looking to reduce its environmental footprint by reducing the greenhouse gas emissions of its fleet of mining trucks and equipment. H2 Tek is currently in discussions with over 20 large mining companies operating in Chile, Peru, Argentina, Brazil, Mexico and the US to further develop a market for dynaCERT's technology.
In April 2019, dynaCERT entered into an agreement with Total Equipment Services Inc. (TES), an underground mining equipment manufacturer. It is the company's first significant agreement with an original equipment manufacturer. TES has become a dealer of dynaCERT's HydraGENTM technology and is expected to market dynaCERT's HG145 products to its clients in Canada. The companies are also expected to work together to create new markets for dynaCERT's products and integrate HydraGEN™ technology with equipment manufactured by TES. In November 2019, TES has launched a user case study involving a comprehensive analysis that will track the effectiveness of the HydraGENTM Technology in underground mining operations by measuring the changes in emissions and fuel economy.
KarbonKleen Partnership
In July 2019, dynaCERTreceived an initial purchase order for 100 HydraGENTM HG145B units from KarbonKleen. Prior to the purchase order being placed, KarbonKleen had partnered with Alliance Holdings Group, which supplies trucking equipment to one of the largest labor unions in Mexico.
Shortly after the initial order was secured, KarbonKleen placed an order for an additional 300 HG145B units and provided end-users of dynaCERT 's technology with a compelling financing alternative. The new financing alternative falls under a monthly subscription service that KarbonKleen has agreed to facilitate.
Customers who sign onto a two-year subscription through one of the company's dealers are eligible for the KarbonKleen money-back guarantee if their registered trucks drive at least 5,000 miles (8,047 kilometres) per month. If dynaCERT's technology doesn't save the client more than its subscription price, KarbonKleen indicates that it will refund the subscription cost.
In November 2019, dynaCERTcompleted the delivery of the first one hundred and fifty HydraGENTM Technology Units to KarbonKleen for installations in Mexico. KarbonKleen's clients span five different trade unions under the Confederation of Mexican Workers (CTM), the largest trade union federation in the country. Together these unions control 1 million trucks used for a variety of types of shipments including trans-border to the USA.
"At KarbonKleen, we are very pleased that such a large organization as CTM has placed their confidence in our companies and the HydraGENTM Technology, including our ability to deliver in a timely manner. Such an important project will result in significant fuel savings for workers in Mexico as well as provide a front-line offensive against the grave pollution problem crippling Mexico City, " said Brian Semkiw, CEO of KarbonKleen.
Management Team
Jim Payne – President, CEO and Director
Jim Payne has successfully built and managed his own private companies for more than 38 years. He has years of experience in accounting, business leadership, and the legal aspects of governance. With a strong leadership presence, Payne is leading dynaCERT in a way that has helped to streamline corporate activities, generate growth, form new partnerships, and bring the corporate vision to a reality. Payne also serves as CEO of his privately held consulting, project management and real-estate development company, operating in the GTA and surrounding areas. He graduated from St. Clair College in Construction Engineering, Project Management and Estimating in 1974.
Wayne Hoffman – Chairman
Wayne Hoffman has served as a member of the Corporation's Business Advisory Committee since October 2007. He is a Chartered Accountant and business executive with one of America's finest companies, Deere & Company, a corporation that is customer driven and places a heavy emphasis on quality and teamwork. He served as Vice-President, Finance at John Deere Limited for 25 years and President of John Deere Credit for over 8 years. As well, Hoffman spent two years in Deere & Company's Business Development Dept. responsible for mergers and acquisitions.
Carmelo Marrelli – CFO
Carmelo Marrelli is a Chartered Professional Accountant (CPA, CA, CGA) and serves as Chief Financial Officer of a number of other Canadian public companies including some listed on the Toronto Venture Exchange and the Toronto Stock Exchange.
Enrico Schlapfer – VP Global Sales
Being Swiss, it is without question that Enrico Schlapfer is a winter sports enthusiast. He has learned there is no such thing as "I can't" by implementing winter snow sport in the paraplegic and mentally handicapped community. As a result, he brings forward the same mentality "nothing is impossible" to his business protocol. He is a seasoned brand development, sales and marketing professional with over 20 years of experience in multiple industries. His exposure to various business cultures, widely divergent professionals and his fluency in five languages ensures his comfort level in global sales. Before devoting his work full-time to dynaCERT Inc., Sclapfer has had key sales positions in prestigious companies such as Nestle, Traxdata and Targus. In addition, he has served as Sales director and COO in WorldConnect in which he was a business partner.
Khoa Tran – Director of Finance
Khoa Tran, B.A., has over 20 years of financial reporting and accounting experience. This includes over 15 years in management positions in world class global businesses for manufacturing and service environments. He has expertise in cost accounting, financial analysis and reporting, variance analysis and government reporting. Mr. Tran was previously the Director of Finance for a mid-sized manufacturing company and Controller for various mid-sized and Fortune 500 automotive and manufacturing companies with international offices.
Jean-Pierre Colin – Director & Corporate Secretary
Jean-Pierre Colin is a consultant to high-growth publicly listed companies. He has been a recognized senior securities industry executive and effective investment banking professional providing financing and mergers and acquisitions services to numerous prosperous issuers in Canada. As a result of his extensive financial background throughout his career, he has been called to lead teams of corporate finance professionals at national securities dealers, such as Richardson Greenshields, JP Colin Securities, Deacon Capital, Octagon Capital and Desjardins. He has also served as a high-profile corporate board director and C-suite executive of numerous public companies, often chairing audit committees, compensation committees and corporate governance committees, including with Premier Gold Mines; Wolfden Resources, sold to Zinifex for over $350 million; Virginia Gold whose Eleonore property was sold to Goldcorp for over $ 1 billion; and, Pelangio Mines, the former controlling shareholder of Detour Gold, one of Canada's largest gold mining operations. Mr. Colin holds a DCS from McGill University where he studied Biology & Engineering, an MBA from the University of Western Ontario, a Law Degree from the University of Ottawa and also practiced corporate law prior to his investment-banking profession
Dr. Richard Lu – Director
Dr. Richard Lu has more than 25 years of global experience developing and implementing business strategies for organizations in North America, Europe and Asia. He has extensive experience in the energy industry. He was the President of Sky Solar (Canada) Ltd., and a Managing Director at Sky Solar Holdings Co., Ltd. Dr. Lu was the VP of Business Development at ARISE Technology Corporation, where he was instrumental in securing its long-term supply chain funding of close to $1 billion dollars. He also previously held the position of Chief Conservation Officer and VP of Toronto Hydro Corporation, where he developed and executed a sweeping portfolio ($110 million) of Conservation, Demand Management and Distributed Energy programs and was instrumental in creating an energy conservation culture in Ontario. Prior to that he was the Vice-President of Environment, Health and Safety, ensuring Toronto Hydro Corporation's commitment to providing a safe and healthy workplace for employees and the strategies for achieving sustainable development and growth are successfully met. Lu has held senior positions with Enbridge Gas Distribution, Husky Injection Molding Systems Ltd., and Dillon Consulting.
Ronald Perry – Director
Ronald Perry serves as Vice-President of Metanor Resources and has been its Treasurer and a Director since March 2007. Perry has over 35 years of accounting, financial and entrepreneurial business experience in high technology, venture capital and merchant banking companies. Since the year 2000, he has been the Founder and serves as President of Briolijor Corporation, a financial consulting company to both private and public corporations. Perry has been involved in all facets of business including statutory reporting, internal controls, legal aspects as well as all administrative responsibilities. He serves as a Director of Manitex Capital Inc. and was a Director of Pinetree Capital. Perry is a Chartered Accountant and holds a Bachelor of Commerce in Accounting and Business Administration from the Concordia University. He also has a Graduate Diploma in Accountancy from the Concordia University.
Dr. Elliot Strashin – Director
Dr. Elliot Strashin brings with him a wealth of experience across a number of industries. His involvement with public mining companies began with Maple Minerals from 1996 to 2001, where he served as a director. In April of 1999, he joined the board of Canadian Golden Dragon Resources as Corporate Secretary and became President and CEO in January of 2000. He continues to serve Dragon under its new name, Trillium North Minerals, as CEO and President. Dr. Strashin is also CEO and President of Strashin and Sons Limited, a private real estate development company that specializes in LEED1 certified, green building. dynaCERT's plant and offices are located in one of these buildings. In keeping with his green focus, Dr. Strashin has also involved himself in green technologies as a co-founder of Ellsin Environmental Ltd., which has built a prototype tire recycling plant in Sault Saint Marie and is a wholly-owned subsidiary of Environmental Waste International Inc. He is also a 50 percent shareholder and CFO of Puma Hydrocarbons, a company whose purpose is to promote and generate sales for green technologies, including dynaCERT products.
Rebecca Hudson -Director
Rebecca Hudson is Chartered Professional Accountant (Chartered Accountant Designation) and Founder of SOOP Bags Inc. which design and produce zero-waste products aimed to replace single-use plastics. She is also CFO of Nova Mentis Life Science Corp. and Andean Drilling Services and consults for Grove Corporate Services. She has served in numerous CFO and Controller or finance positions of companies such as Royal Nickel Corporation, TerrAscend Corp., Hornby Bay Mineral Exploration Ltd., Wabi Exploration Inc., Claim Post Resources Inc., Barkerville Gold Mines Ltd., Lithium One Inc., Royal Road Minerals Limited, Explorator Resources Inc. and IAMGOLD Corporation, among others. She holds a Masters of Accounting (MAcc) degree and a Bachelor of Arts (BA), Concentration in Accounting from the University of Waterloo.
Clark Kent -Director
Clark Kent is a capital markets professional with extensive experience leading corporate development and finance initiatives in the natural resources, technology and life science industries. Clark began his career with a boutique investment firm where he focused on client relations and marketing. For over a decade he has advised emerging companies on strategic planning, finance, and recruitment in the North American and international marketplace. Since January 2018 Clark has served as President of Scryb Inc., a company featuring cybersecurity software and Artificial Intelligence.
window.REBELMOUSE_LOWEST_TASKS_QUEUE.push(function(){
var scrollableElement = document.body; //document.getElementById('scrollableElement');
scrollableElement.addEventListener('wheel', checkScrollDirection);
function checkScrollDirection(event) { if (checkScrollDirectionIsUp(event)) { //console.log('UP'); document.body.classList.remove('scroll__down'); } else { //console.log('Down'); document.body.classList.add('scroll__down'); } }
function checkScrollDirectionIsUp(event) { if (event.wheelDelta) { return event.wheelDelta > 0; } return event.deltaY < 0; } }); window.REBELMOUSE_LOWEST_TASKS_QUEUE.push(function(){ !function(f,b,e,v,n,t,s){if(f.fbq)return;n=f.fbq=function(){n.callMethod? n.callMethod.apply(n,arguments):n.queue.push(arguments)}; if(!f._fbq)f._fbq=n;n.push=n;n.loaded=!0;n.version='2.0'; n.queue=[];t=b.createElement(e);t.async=!0; t.src=v;s=b.getElementsByTagName(e)[0]; s.parentNode.insertBefore(t,s)}(window,document,'script','https://connect.facebook.net/en_US/fbevents.js'); fbq('init', '2388824518086528'); });



Source link