Overview
Exploring undeveloped land with the hopes of striking gold is a time-honored mining tradition, but it's not the only way to create a profitable project. Restarting past-producing mines allows companies to start with proven mineralization, explore stockpile potential and utilize the existing infrastructure. In addition, stockpiles create a fast track to cash flow, as the previous miners may have had different criteria based on the economics of their time. For example, gold mines often stockpiled gold under a specific grade as it was not economically feasible, but given current prices and modern processing technology, it's now worth processing the stockpiled gold and silver.
Restarting a past-producing mine begins by selecting the proper jurisdiction. Idaho, for instance, has mining-friendly policies that include tax incentives to create rural jobs. The gold rush of the 1800s led to the creation of the state. For example, the famous Silver City was founded near prolific silver and gold deposits. Mining policies in the state are focused on enabling ease of mining operations, both procedurally and practically.
CMX Gold & Silver (CSE:CXC,OTC:CXXMF) is an exploration and development mining company, focused on Idaho's historic gold and silver assets. The company's flagship project is the Clayton Silver Mine, a past-producing asset that operated for 50 years and has historically mined over two million tonnes of ore. The project also has a stockpile of at least 500,000 tonnes of rock. The company has a strong capital structure with no legacy or sweat equity debt. Additionally, the project has no royalties and plans to generate cash flow in 2023 by processing the stockpile.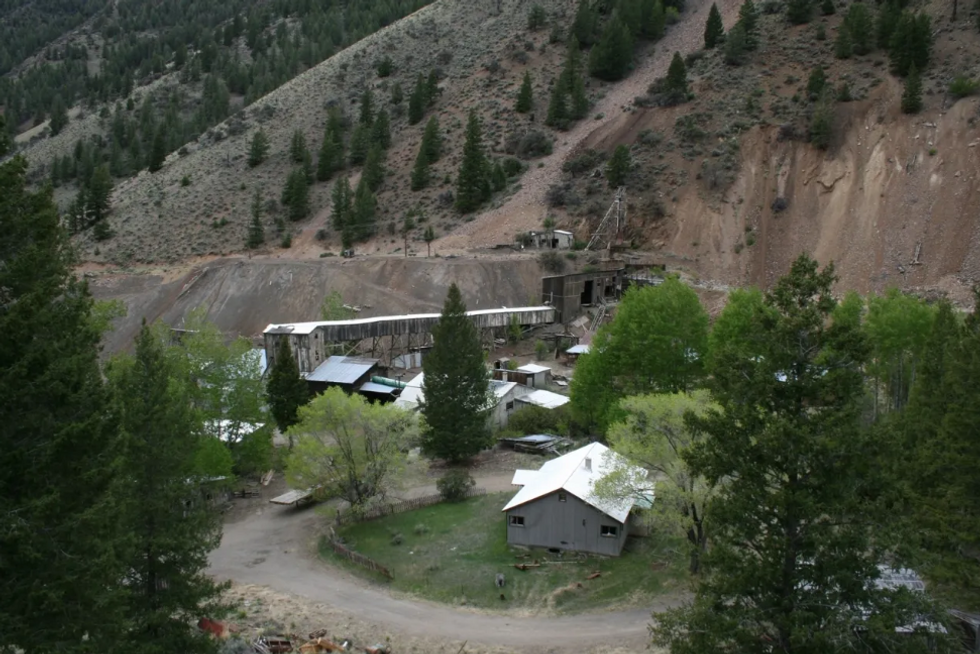 CMX Gold & Silver notes that the previous miners simply followed the known vein system, and it was sufficient for their time and goals. However, the company plans to conduct additional exploration using modern techniques to identify other veins. Once identified, the company will conduct drilling operations to confirm survey results and identify additional development opportunities.
In a recent interview, CEO Jan Alston discussed the excitement surrounding the Clayton Silver Mine, stating, "After 50 years in operation, it was closed down when commodity prices fell in the mid-1980s. We think the potential exists to add a lot of shareholder value by doing the work that is needed to establish that there is a lot more ore still to be mined. Our hope is to get this mine operating again."
A strong management team builds confidence in the company's ability to capitalize on the past-producing mine. Jan Alston, CEO, has worked in the natural resources industry for over 35 years, including practicing business law in the oil and gas sector. Glen Alston, CFO, has 30 years of experience in corporate finance and has worked with mining companies focused on diamonds, precious metals, and base metals. Additional experts in geology and financing bring their specialties to the management team.
Company Highlights
CMX Gold & Silver is an exploration and development mining company focused on revitalizing a past-producing mine to benefit from known mineralizations and existing infrastructure.
The Clayton Silver Project has historically produced over two million tonnes of ore, and a stockpile of 500,000 tonnes of rock remains on the property.
The previous miners operated for 50 years and followed a main vein system, which was sufficient for their goals. However, CMX believes other vein systems are present that will create additional opportunities.
A strong management team with decades of experience in the mining industry builds confidence for the project and the team's ability to capitalize on the flagship asset.
Key Projects
The Clayton Silver Mine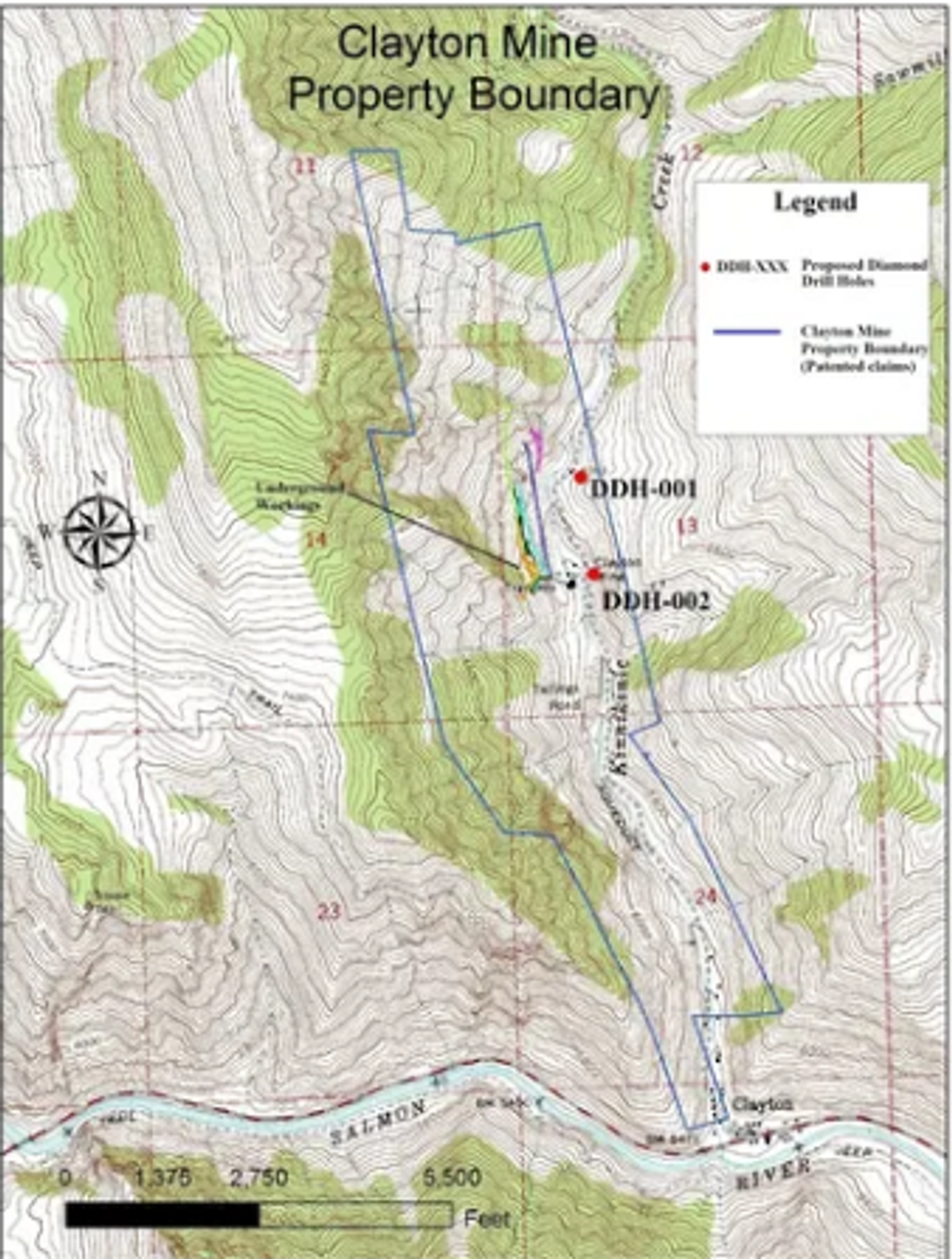 The flagship project covers 276 hectares and is roughly 30 kilometers from Custer country. It includes 29 patented mining claims, two patented mill sites, and six unpatented mining claims. Additionally, further exploration aims to identify targets for an upcoming drill program that hopes to locate additional mineralization.
Project Highlights:
Stockpile from Previous Operators: The Clayton Silver Mine has an unprocessed stockpile of at least 500,000 tonnes of rock. A 2014 sampling program showed gold at 0.80 gms/t, silver at 24.31 gms/t, zinc at 0.27 percent, manganese at 0.60 percent and lead at 0.44 percent. These tests were performed at 16 random locations, proving that there is valuable rock in the stockpile.
Working with Engineers to Process the Stockpile: The company is presently working with an engineering firm to plan the efficient processing of the 500,000-tonne stockpile using state-of-the-art sensor-based ore sorting technology. CMX estimates that if they begin processing on average 4,000 tonnes per day, it will take six to eight months to process the stockpile.
An Ecologically Friendly Project: Tailing studies and remediation work have been completed by the EPA and Idaho Department of Environmental Quality. The previous operators have no legacy environmental issues, and the company can readily obtain a water usage permit.
Year-Round Access with Paved Road: The Clayton Silver Project can be reached throughout the year via a paved road that leads directly to the site.
Management Team
Jan M. Alston – President & CEO
Jan Alston was born in Calgary, Alberta and attended the University of Alberta, where he obtained a bachelor's of arts in 1978 and an LLB in 1981. Alston has been involved in public junior natural resource companies for over 35 years. He practiced law in the 1980s in the areas of business law, oil and gas, securities regulation, and corporate finance. He led the management team as president, chief executive officer, director and cofounder of Purcell Energy, an oil and gas exploration and production company listed on the Toronto Stock Exchange. After sixteen years, Purcell 2005 sold two-thirds of its oil and gas assets for more than US$150 million and spun out Tenergy. From November 2005, Alston was chief executive officer and director of Tenergy, a Toronto Stock Exchange-listed natural gas exploration and production company, until its sale in March 2006 for US$92 million. Since 2006, he has been involved in several private businesses in management and as an investor.
Glen R. Alston – Chief Financial Officer
Glen Alston attended the University of Calgary, where he obtained his bachelor's of commerce in 1986. He has over 30 years of experience in executive and management roles with public junior mining exploration companies. Alston has been a senior officer and director of several junior companies, as well as being involved in many different aspects of the business, including stock exchange listings, corporate finance activities, corporate development, project management, and accounting and audit functions. He has extensive experience in facilitating exploration projects for precious metals, diamonds, and base metals.
James P O'Sullivan – Corporate Secretary
James O'Sullivan is a partner in the Calgary office of Dentons LLP. His current practice focuses on providing corporate and commercial advice to junior issuers, including start-up and growth companies active in the energy, mining, healthcare and technology markets. O'Sullivan's expertise includes corporate governance, regulatory compliance and continuous disclosure matters. He has extensive experience in financings, mergers and acquisitions and other corporate reorganizations. O'Sullivan also serves as corporate secretary for several Canadian public companies. He has been a member of the Law Society of Alberta since 2007.
Richard T. Walker – Consulting Geologist
Richard T. Walker attended the University of Calgary, where he obtained his bachelor's of science in geology in 1986 and his master's of science in geology in 1989. He is a professional geologist registered with the Association of Professional Engineers and Geoscientists of British Columbia. He has over 30 years of practical field experience working with organizations of all sizes, from junior to major mining companies, both private and public, in Canada, the United States, and South America. Walker's primary role has been the management of exploration programs for precious metals, with an emphasis on silver, and base metals. He has successfully completed programs in diverse jurisdictions, including British Columbia, Alberta, Northwest Territories, Nunavut, Yukon Territory, Saskatchewan, New Brunswick, Montana, Alaska, Brazil, Peru, and Chile. Walker provides consulting services through his firm, Dynamic Exploration, of which he has been president since 1996. He is the former president of the East Kootenay Chamber of Mines and a director of the BC and Yukon Chamber of Mines.
window.REBELMOUSE_LOWEST_TASKS_QUEUE.push(function(){
!function(f,b,e,v,n,t,s){if(f.fbq)return;n=f.fbq=function(){n.callMethod? n.callMethod.apply(n,arguments):n.queue.push(arguments)}; if(!f._fbq)f._fbq=n;n.push=n;n.loaded=!0;n.version='2.0'; n.queue=[];t=b.createElement(e);t.async=!0; t.src=v;s=b.getElementsByTagName(e)[0]; s.parentNode.insertBefore(t,s)}(window,document,'script','https://connect.facebook.net/en_US/fbevents.js');
fbq('init', '2388824518086528');
});



Source link