On Track for Silver and Battery Metals Production Within 2 Years
Canada Silver Cobalt Works Inc. (TSXV:CCW, OTCQB:CCWOF, FWB:4T9B) is a dual-focus silver and battery metals (nickel, copper, cobalt) exploration/development company with operations in Northern Ontario and Quebec.
These metals are all classified as energy metals involved in the electrification trend underway around the world and they will continue to be in demand for many years to come.
The Company has two major projects underway – Castle East and Graal – with exciting announcements in the coming weeks/months.
Upcoming Catalysts:
Major update in the silver resource estimate (with cobalt byproduct) planned for end-March or early April, 2022 at the Castle East deposit, which has the highest silver grades in the world. The update will include 7 new high-grade silver-cobalt veins discovered since the last estimate (based on only 1 vein) was published;
Numerous high-grade silver drill results (highest so far is 89,853 g/t Ag or 2,621 oz/ton) from continued drilling at Castle East, which is in Northern Ontario;
Additional drill results from the Graal project in Northern Quebec where the company has drilled into major sulphides containing nickel, copper and cobalt;
Completion of environmental baseline studies and the filing of an application for permits to build a ramp to access the high-grade silver veins at Castle East that will be processed into silver dore bars at the company's fully permitted TTL 'mini-mill' facility in nearby Cobalt, Ontario;
Completion of a PEA in the summer on the economics of constructing the ramp down to the high-grade veins at around the 500m level, which will include revenues from the silver processed from large bulk samples that can be extracted and providing the company with the ability to drill from underground to further expand the size of the deposit.
Fast-Tracking Silver Production (with cobalt by product)
Canada Silver Cobalt is following a fast-track development model towards producing silver along with battery metal cobalt as a byproduct – both 'energy' metals needed to advance the world's alternative energy future.
Instead of the traditional route taken by mining companies to stretch out development over many years in a series of steps – exploration drilling, then resource studies, then engineering studies, followed by permitting – Canada Silver Cobalt is doing all of these at the same time in what it describes as "real time" mine development.
As the Company conducts its drill program to increase resource estimates at its spectacular high-grade silver-cobalt deposit at Castle East, it also is doing the environmental studies and preparing the applications for permits to construct a ramp down to the 500-meter level in order to extract the very high-grade silver-cobalt it has discovered there. The Company is also working on the engineering for the ramp and organizing contractors for constructing the ramp when the permits are received. Once the high-grade material is extracted, the Company can use its 100% owned "mini-mill" facility nearby which during past mining in the area produced as much as 2.5 million ounces of silver annually for mining companies when it operated as a government facility in the 1900s.
If all goes well, Canada Silver Cobalt could be producing enough silver within two years to pay for the ramp construction in a very short time frame and also fund additional exploration/development of its properties. The Company is also working on optimizing its proprietary, environmentally-compliant Re-2Ox extraction process technology which has been proven in lab tests to produce cobalt sulphate (and nickel and copper sulphates) in line with the strict specifications manufacturers require for EV batteries.
The Company also has other initiatives underway that will advance its position in the precious and battery metals market including exploration of gold properties in Ontario and nickel-copper-cobalt properties in northern Quebec.
More information below and at the Company's website and in the Company's investor presentation at www.canadasilvercobaltworks.com
Overview
Canada Silver Cobalt Works Inc. (TSXV:CCW,OTCQB:CCWOF,FWB:4T9B) has 100% ownership of the past-producing silver-cobalt Castle mine and the 78 sq. km Castle Property with strong exploration upside in the prolific past producing Gowganda high-grade Silver Camp of Northern Ontario.
The Company's recent acquisition of the Temiskaming Testing Laboratories in Cobalt, Ontario, the only facility in the Northern Ontario Silver-Cobalt District that combines bullion pouring, bulk sampling, commercial assaying and e-waste processing, makes Canada Silver Cobalt a vertically integrated leader in Canada's Silver-Cobalt heartland.
This facility will also become the new home of Canada Silver Cobalt's 100 percent-owned Re-2OX Process, an environmentally friendly solution for producing technical grade cobalt sulphate as well as nickel-manganese-cobalt (NMC) formulations.
The company recently announced that it has engaged SGS Canada's Lakefield Testing Facility to design a Re-2Ox pilot plant which will eventually be located at the TTL facility. It has also contracted with SGS to test the Re-2Ox process for battery recycling.
A notable highlight of recent drilling on the property is the discovery in the Castle East Robinson Zone of massive native silver grades of up to 89,853 silver (2,621 oz/ton) over 0.3 meters, with intercepts also showing cobalt grades up to 2.2% Co. Further drilling has greatly expanded the potential scale of the discovery.
On May 28, 2020, the company announced a sizeable Maiden Inferred Resource estimate of 7.6 million ounces of high-grade silver grading an extraordinary 8,582 g/t (250.2 oz/ton) silver the highest grade silver resource in the world. The company plans to upwardly revise this resource estimate in Q1 2022 based on the 60,000-meter drill program underway and the discovery of seven new high-grade silver veins since the initial resource estimate (which was based on only one vein).
As of the end of January 2022, 55,000 meters of the drill program had been completed and additional drilling is underway, with results pending. The Robinson Zone is 1.5 km east of the Castle Mine's adit and two of its previous mine shafts when it was a past producer in the 1900s. The company intends to restart the mine and is proceeding with various work including permitting towards that goal.
Agnico Eagle Mines Limited (TSX:AEM) operated the Castle mine in the 1980s when it was considered to be the highest-grade silver mine in the camp with an average mining grade of 26 ounces per ton silver. In its history, the mine produced 9.6 million oz silver and 300,000 lbs of cobalt as a by-product.
CCW is in a good position to take high-grade ore and process it into silver bars at TTL. In its initial years in the Cobalt Camp, Agnico Eagle processed high-grade silver ore at the TTL bulk facility and poured 1.6 million oz of silver annually into bars using TTL's bullion furnace. Other companies also produced another 1 million oz silver per year.
Also in the works at CCW is the design, planning and permitting for a ramp going down to the extremely high-grade silver discovery in the Robinson Zone at Castle East at about the 500 meter level.
The ramp would provide two extremely important benefits: 1) it would provide the company a way to extract the very high-grade silver to process at TTL into silver bars and the revenue generation from that would be considerable and would help pay for the ramp; and 2) the ramp would actually be an important exploration tool since it would likely intercept vein systems as it cut through the rock and drill pods could be established in key locations to permit underground horizonal-fan drilling for exploration at a much lower cost than drilling from the surface.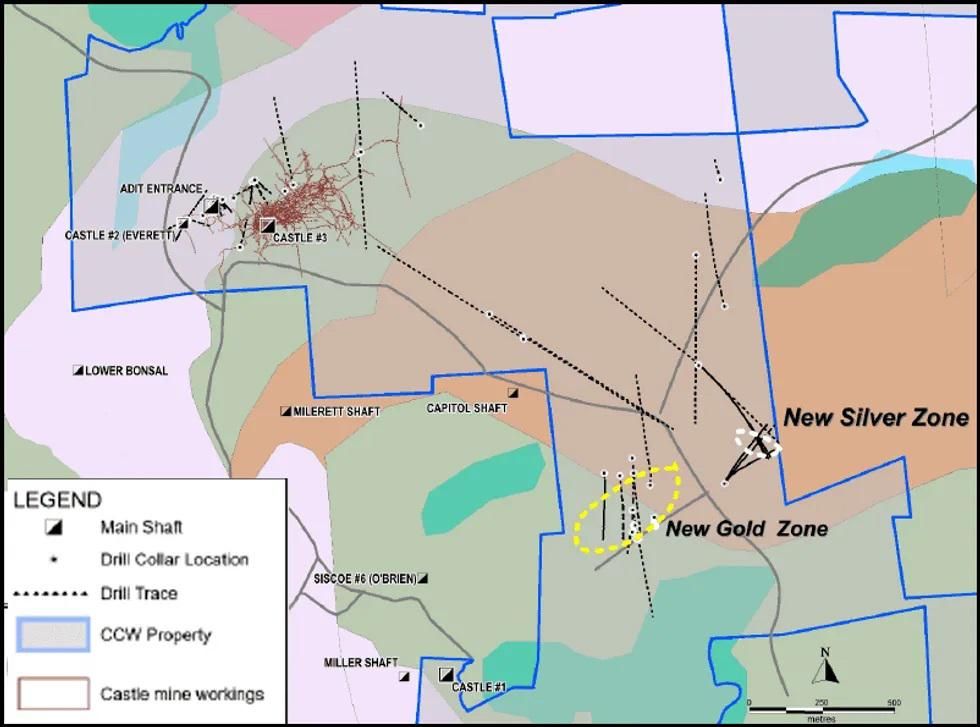 The Castle mine has fully-permitted access for its underground workings, providing the company with a significant advantage when it comes to putting the mine back into production. CCW has used its adit access for underground drilling and bulk sampling on Level 1 in preparation to resume mining.
Underground drilling on Level 1 at Castle recently discovered an exceptionally high-grade silver-cobalt vein structure. Initial drill results include seven meters grading 2.28 percent cobalt, 261 g/t silver and 1.65 percent nickel, 2.54 meters grading 1.87 percent cobalt, 4,763 g/t silver, 1.29 percent nickel and 1.19 g/t gold and 0.60 meters grading 3.16 percent cobalt and 10,741 g/t silver.
In a surprising development, high-grade gold of up to 22.7 g/t was unexpectedly discovered – along with high-grade cobalt, silver and nickel – in underground drilling on Level 1 in late 2019 (results announced on January 3, 2020).
In addition to the company's exploration efforts, CCW is working on obtaining an amendment to its existing advanced exploration permit so the company can move ahead with its proposed tailings program. Recent testing of material from the Castle mine's historical tailings pond has returned a calculated head assay of 459 g/t silver and produced a high-purity flotation concentrate grading 18,486 g/t silver with an initial recovery of 70 percent.
The company's on-site proprietary gravity separation pilot plant has produced an 8.25 percent cobalt concentrate from a waste pile left by previous operators. Head grades of the material from the waste pile tested graded 0.390 percent cobalt and 1,905 g/t silver.
Canada Silver Cobalt Works is led by Chairman and CEO Frank Basa, who has over 30 years of global experience in mining and development as a professional hydro-metallurgical engineer with expertise in milling, gravity concentration, flotation, leaching and refining of silver, cobalt, gold and other metals. Basa is also responsible for developing the company's proprietary Re-2OX hydrometallurgical process, an environmentally-friendly approach to extracting metals without the need of a smelter.
The battery industry has specific criteria that needs to be met in terms of its materials. For lithium-ion batteries it is necessary for companies to produce a 20 percent cobalt sulfate with limited arsenic. Canada Silver Cobalt Works has been able to demonstrate that its Re-2OX process is capable of producing a battery-grade 22.6 percent cobalt sulfate meeting these industry specifications.
Canada Silver Cobalt Works' portfolio also includes the Beaver and Violet silver-cobalt projects, both past-producers in the Cobalt camp.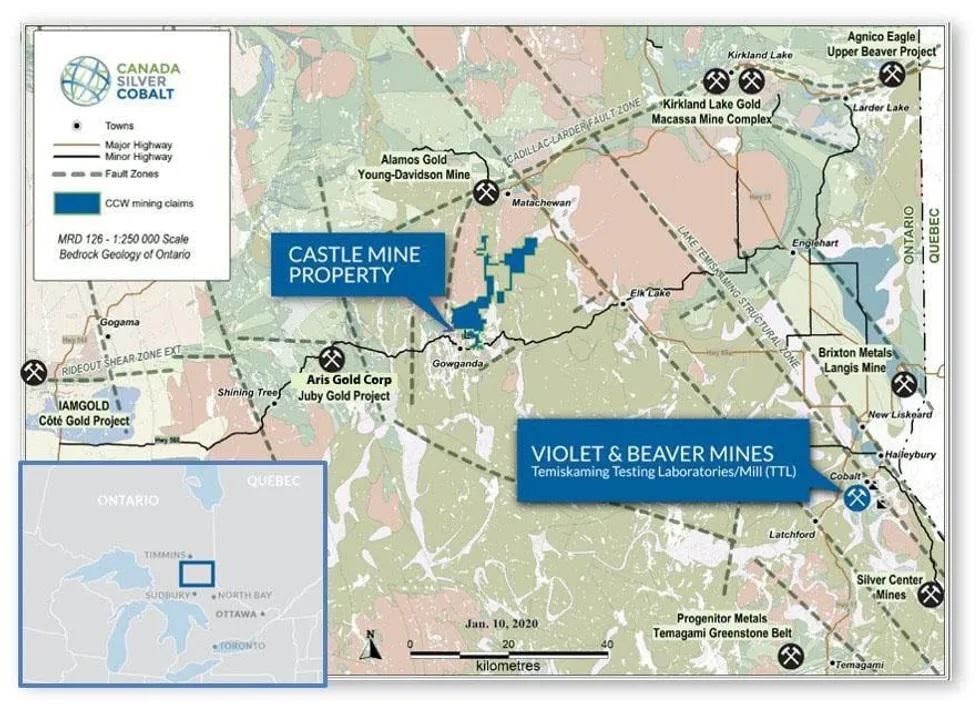 Company Highlights
100-percent ownership of three past-producing properties including the Castle mine near Gowganda and the Beaver and Violet silver-cobalt mines near Cobalt. The company's goal is to resume underground mining using modern mining techniques.
Silver and cobalt are essential metals in renewable energy technology. Cobalt is used in three of the four main types of lithium-ion electric car batteries, and silver is used in 90 percent of crystalline silicon photovoltaic cells in solar panels.
Preliminary metallurgical testing in 2017 returned excellent silver and cobalt recoveries and concentrate grades and subsequent testing confirmed it.
Exceptional discoveries at Castle since 2011 from sampling and drilling, intersecting very high grades of silver (mentioned above) and up to 4.68 percent cobalt along with nickel and gold.
Channel sampling in 2014 exposed significant gold and copper mineralization and led to the discovery of Castle Golden Corridor zone.
Subsequent geophysical and geochemical programs at the property has identified numerous high-potential drill targets.
Proprietary Re-2OX process achieves 99 percent cobalt recovery.
The lab/bulk sampling facility acquisition provides Canada Silver Cobalt Works with additional revenue opportunities and helps the company realize its goal of becoming a vertically-integrated leader in North America.
Key Projects
Canada Silver Cobalt Works' flagship property: Castle Mine
The 78 square-kilometer Castle cobalt-silver project is located in the historic Gowganda mining camp, 85 kilometers northwest of Cobalt, Ontario. The camp was responsible for more than 50 million ounces of high-grade silver production in the 1900s. Infrastructure on and near the property includes year-round access to roads, water, diesel power, three shafts and an adit.
Two geological trends have been identified on the property including a north-south trending Nipissing diabase intrusive, which is the typical host rock for silver-cobalt-nickel deposits in the area, and a potential gold trend along the Bloom Lake fault.
The project hosts the historical Castle mine, a former silver-cobalt mine that has reportedly produced 300,000 pounds of cobalt and 9.5 million ounces of silver. Historic underground ore grades averaged 25 ounces per tonne silver between 1923 and 1930 and 26 ounces per tonne silver between 1979 and 1989. The Castle mine's previous owner, Agnico Eagle, ceased production in 1989 due to low silver prices (in the range of US$6 per ounce).
The Cobalt camp is primarily comprised of cobalt veins that contain varying amounts of silver. In the past, miners focused on veins that contained high-grade silver and ignored the low-grade silver veins even though they contained high-grade cobalt. Cobalt was not considered important at the time and routine drill core assays only focused on silver content.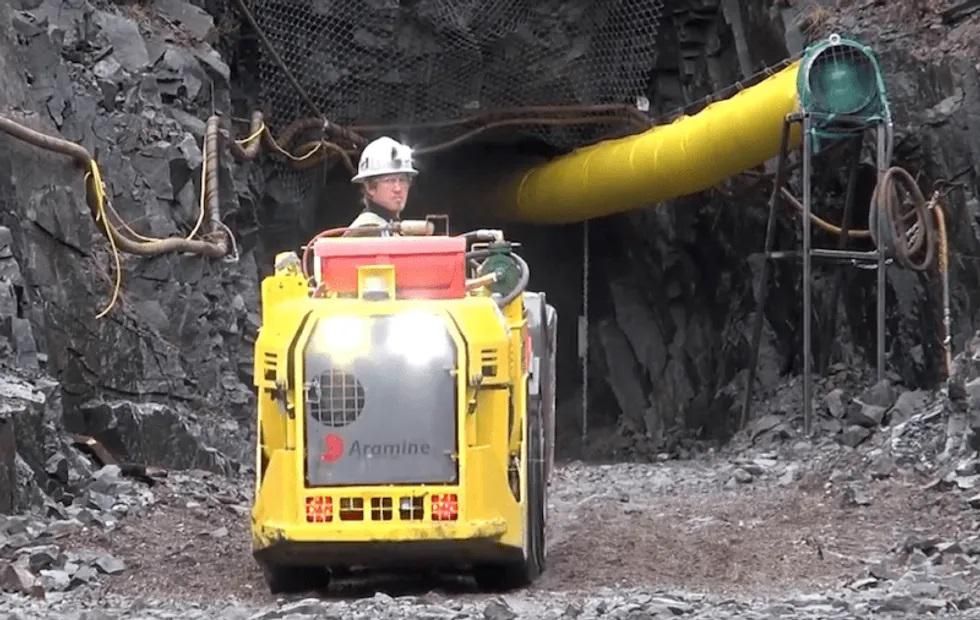 Despite the past-production at Castle, the property remains largely underexplored and may host several significant high-grade underground cobalt and silver deposits.
Castle Golden Corridor Zone
The previously discovered 800-meter Castle Golden Corridor zone is located about 1.7 kilometers from the Castle #3 shaft and has a geological setting similar to the past-producing Kirkland Lake deposit (40 million ounces of gold) located 75 kilometers to the northeast. The zone is highly prospective for high-grade hydrothermal-related gold systems with copper. The zone has been drilled to a depth of 300 meters.
Channel sampling work conducted at the Castle Golden Corridor zone in 2014 returned 2.2 meters grading 2.24 g/t gold and copper values as high as 1.03 percent. Canada Silver Cobalt Works has also identified a 725-meter-long, east to west-trending IP anomaly with an associated chargeability halo in this area.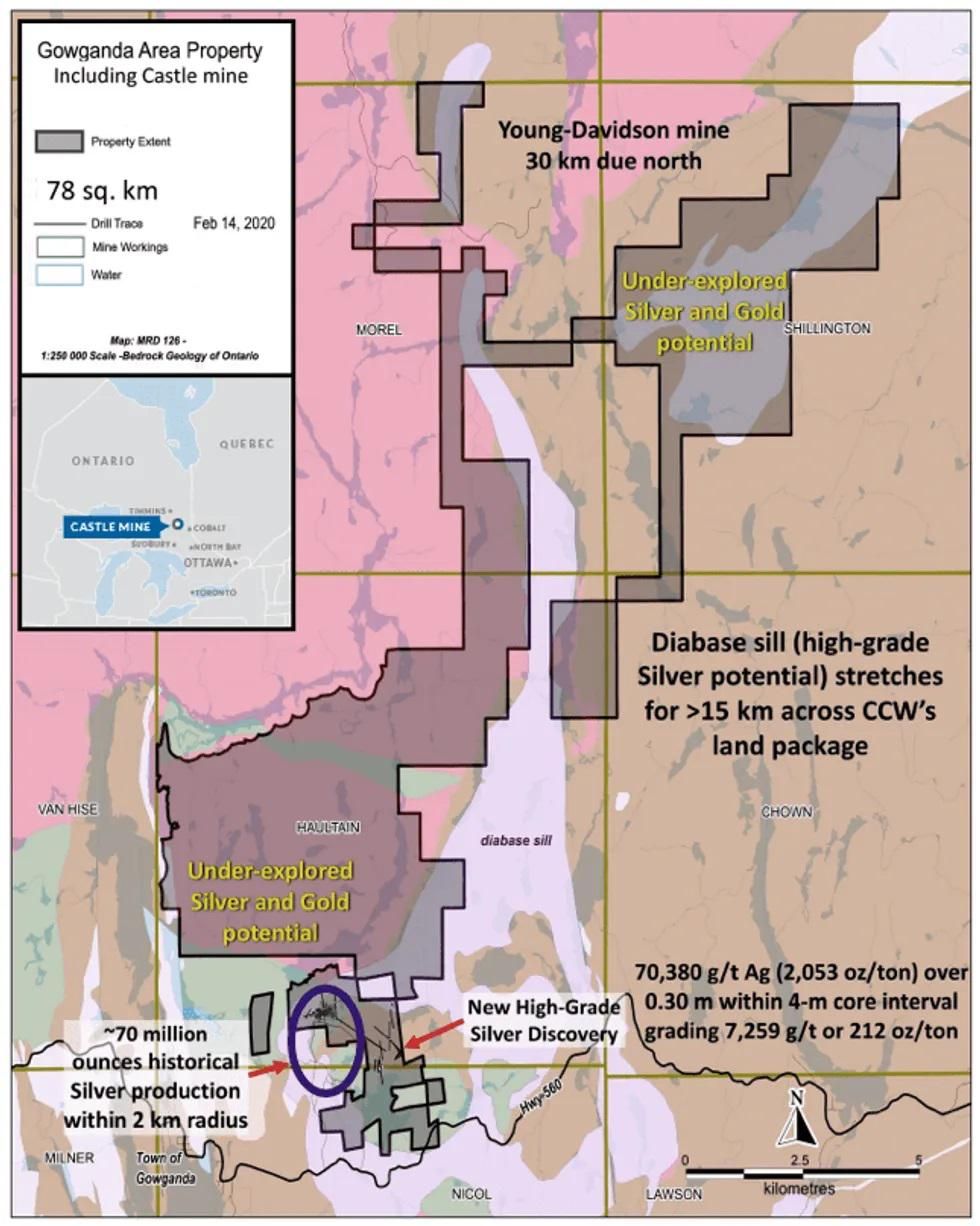 Access to Underground Workings
Canada Silver Cobalt Works is the only company in the Cobalt camp to have fully-permitted underground access via an adit. This allows for easy entry into the mine for extracting bulk samples and exploratory drilling to target new discoveries. Access to the underground workings also speeds up the time to production as CCW won't have to spend time establishing the mine adits. Drilling from underground can also be less costly and provides greater probability of success. CCW has mapped previously discovered veins using its extensive database which contains all of the past drilling and mine workings from the early 1900s.
Throughout 2018 and 2019, Canada Silver Cobalt Works conducted underground drilling at the Castle mine. Twenty-five percent of the assayed holes returned high-grade intercepts of 1.77 meters grading 1.05 percent to 3.7 percent cobalt. Additional drilling highlights include:
28 percent cobalt, 261 g/t silver and 1.65 percent nickel over seven meters in hole CA18-001
70 percent cobalt, 4,763 g/t silver, 1.29 percent nickel and 1.19 g/t gold over 2.54 meters in CA18-002
16 percent cobalt and 10,741 g/t silver over 0.60 meters in CA18-003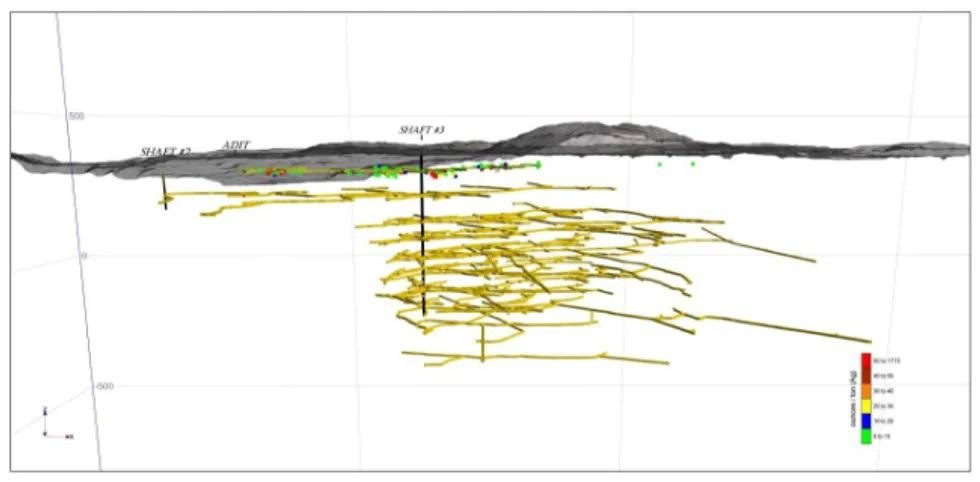 Pilot Plant
Management is working towards the eventual construction of a state-of-the-art 600 tonne per day gravity flotation cyanidation mill at Castle or nearby.
An on-site pilot plant has produced an 8.25 percent cobalt concentrate from waste material. Head grades from the waste pile left behind by previous operators tested 0.390 percent cobalt and 1,905 g/t silver.
TTL: Metallurgical Potential for Cobalt Products and Battery Recycling
With the goal of realizing the company's vision of becoming a vertically-integrated leader in North America, Canada Silver Cobalt Works has acquired Temiskaming Testing Labs (formerly PolyMet Labs), an ISO-certified lab facility with mineral and precious metals processing located in Cobalt, Ontario.
The 23,000-square-foot facility provides bullion pouring, bulk sampling, commercial assaying and e-waste processing services to the numerous mining operations in the area. The facility is also capable of processing mixed computer boards through its shredder and ball mill to recover precious and base metals.
The building is located near the company's Castle and Beaver mines and will host Canada Silver Cobalt Works' headquarters and proprietary Re-2OX process.
The company has poured three 300-ounce silver bars in a proof-of-concept test at the facility. The test was able to prove that the Castle mine has the potential to produce silver as well as cobalt from the underground and surface waste material and tailings. The pilot plant at the Castle mine separated leaf silver and created a silver gravity concentrate from mineralized waste material. The concentrate and silver leaf were smelted at the lab before forming the bars.
CCW was also able to recover cobalt from the same mineralized waste material using its Re-2OX process. The recovered materials were then sent to SGS Lakefield to produce a cobalt sulfate.
The Re-2OX hydrometallurgical process
The Re-2OX hydrometallurgical process is designed to recover multiple metals and elements from all types of feedstocks with varying chemistries. The process was developed by Canada Silver Cobalt Works CEO Frank Basa in conjunction with the National Research Council of Canada (NRC), Canada's premier scientific research organization.
To date, Canada Silver Cobalt Works has produced a cobalt sulfate in the lab and is working on developing other products for potential customers that utilizes the Re-2OX process. To this aim, the company has been conducting advanced-stage testing on the process with SGS Lakefield to determine the viability of recycling spent lithium-ion batteries. Canada Silver Cobalt Works believes that the Re-2OX process can help fulfill the demand for ethically-sourced cobalt, creating compelling opportunities in the battery and renewable energy sectors.
Re-2Ox Process Flowsheet
In May 2018, Canada Silver Cobalt Works announced that the Re-2OX process had successfully recovered 99 percent cobalt and 81 percent nickel from a composite of gravity concentrates. The process was also successful in removing 99 percent of arsenic, placing the company in a competitive position as battery manufacturers prefer to use cobalt with low arsenic contents.
Canada Silver Cobalt Works' Other Projects
Canada Silver Cobalt Works also owns two other highly-prospective properties in the Cobalt mining camp: the Beaver and Violet mines.
Cobalt Potential at Beaver
The Beaver silver-cobalt project is located in Ontario's historic Cobalt mining camp, adjacent to the former Timiskaming silver mine and approximately 80 kilometers southeast of the past-producing Castle mine. The project itself includes a former producer, the Beaver mine, which produced 7.1 million ounces of silver and 139,472 pounds of cobalt from 1907 to 1940.
High-grade mineralization has been repeatedly confirmed at Beaver. In 2017, selected hand-cobbed sample material at surface averaged 4.68 percent cobalt, 46.9 g/t silver, 3.09 percent nickel, 46.9 g/t silver and 0.08 g/t gold.
This follows sampling of historical waste rock and tailings at Beaver in 2013 that returned 7.98 percent cobalt, 3.98 percent nickel and 1,246 g/t silver.
Canada Silver Cobalt Works also holds the formerly producing Violet silver-cobalt mine located near the Beaver property in the Cobalt mining camp.
Cobalt rosettes in a quartz-carbonate vein at the Beaver Silver Mine
Management Team
Frank J. Basa, P. Eng.- CEO and Chairman
Frank Basa has over 28 years' global experience in mining and development as a professional hydro-metallurgical engineer with expertise in milling, gravity concentration, flotation, leaching and refining of silver, cobalt, gold and other metals. He is a member of the Professional Engineers of Ontario and a graduate of McGill University. Basa has been the Chairman, Chief Executive Officer and President of Granada Gold Mine Inc. since June 18, 2004.
Mr. Matt Halliday, P.Geo. – President, COO, VP Exploration
Mr. Halliday first joined Canada Silver Cobalt late last year from Kirkland Lake Gold where he served as resource geologist. A graduate of Dalhousie University in 2007, Mr. Halliday honed his skills for almost eight years with SGS Geostat, known as global leaders in orebody modelling and reserve evaluation. In 2016 he was part of the SGS team that pushed machine learning into the geological realm and claimed top prize in the $1 million Integra Gold Challenge.
Robert Suttie – CFO
Mr. Suttie currently works with Marrelli Support Services as its President, possessing more than 20 years of experience, ten of which were in public accounting prior to his tenure with the Marrelli organization. Mr. Suttie specializes in management advisory services, accounting and the financial disclosure needs of the Marrelli group's public client base. Mr. Suttie also serves as Chief Financial Officer for a number of other junior mining and technology companies listed on the TSX-V and CSE, leveraging his skills and experience to become integral to the reporting issuers.
Dianne Tookenay, M.P.A. B. Admin – Director
Dianne Tookenay holds a Certificate in Mining Law from the Osgoode Hall Law School, York University, a Joint Masters of Public Administration from the University of Manitoba, a Bachelor of Administration from Lakehead University and Native Band Management and Indian Economic Development Diplomas from Confederation College Applied Arts and Technology. Tookenay's experience, knowledge and deep roots within the First Nation communities will continue to add significant value to Canada Silver Cobalt Works' development efforts over the coming years.
Jacques F. Monette – Director
Jacques Monette is a career miner who has been engaged in every facet of underground mining for more than 40 years. His previous positions included Shaft Project Coordinator with Cementation Canada Inc., Vice President of Operations/Mining Division for Wabi Development Corp., Vice President of Development for CMAC Mining Group, Operations Manager for Moran Mining and Tunneling, as well as Area Manager for J.S. Redpath Group.
Robert Setter B.A. Econ. – Director
Robert Setter is the former Senior Financial Editor for Report on Mining. He brings an extensive business, marketing and analysis background to the company, is a graduate of UBC and holds a BA in Economics. Setter serves as Corporate Research and Analytics for Granada Gold Mine Inc. since 2012.
Tina Whyte – Corporate Secretary
Tina Whyte brings over 20 years of experience in the corporate and securities industry. Her expertise spans to areas of corporate governance, continuous disclosure, financing transactions, regulatory filings and compliance. Whyte holds corporate secretary positions with other publicly-listed companies.
window.REBELMOUSE_LOWEST_TASKS_QUEUE.push(function(){
var scrollableElement = document.body; //document.getElementById('scrollableElement');
scrollableElement.addEventListener('wheel', checkScrollDirection);
function checkScrollDirection(event) { if (checkScrollDirectionIsUp(event)) { //console.log('UP'); document.body.classList.remove('scroll__down'); } else { //console.log('Down'); document.body.classList.add('scroll__down'); } }
function checkScrollDirectionIsUp(event) { if (event.wheelDelta) { return event.wheelDelta > 0; } return event.deltaY < 0; } }); window.REBELMOUSE_LOWEST_TASKS_QUEUE.push(function(){ !function(f,b,e,v,n,t,s){if(f.fbq)return;n=f.fbq=function(){n.callMethod? n.callMethod.apply(n,arguments):n.queue.push(arguments)}; if(!f._fbq)f._fbq=n;n.push=n;n.loaded=!0;n.version='2.0'; n.queue=[];t=b.createElement(e);t.async=!0; t.src=v;s=b.getElementsByTagName(e)[0]; s.parentNode.insertBefore(t,s)}(window,document,'script','https://connect.facebook.net/en_US/fbevents.js'); fbq('init', '2388824518086528'); });



Source link