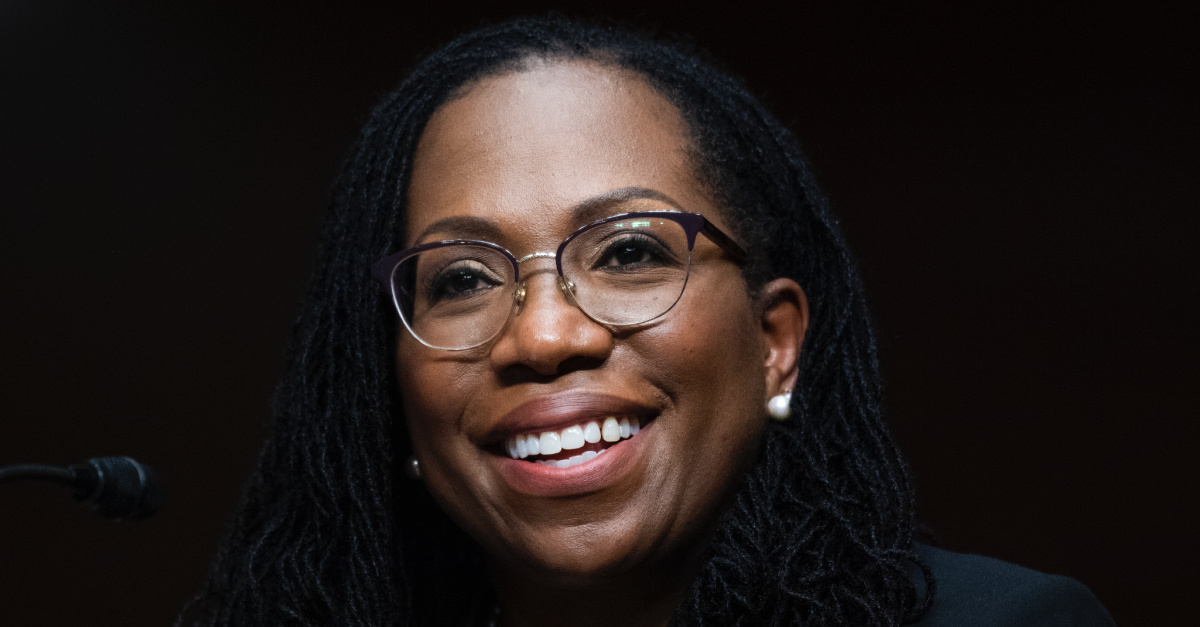 Supreme Court nominee Ketanji Brown Jackson on Tuesday declined to define the word "woman" during an exchange with U.S. Senator Marsha Blackburn.
Blackburn described the answer as troubling and said it sends a message to female athletes that "their voices don't matter."
Jackson, during an exchange with another senator, also said she could not provide an answer for when life begins, noting that she sets aside her personal and religious beliefs on the issue of life during decisions.
The U.S. Senate Judiciary Committee is holding hearings on Jackson's nomination. She currently serves as an appeals court judge.
"Can you provide a definition for the word woman?" Blackburn asked.
"No, I can't. Not in this context. I'm not a biologist," Jackson said. "… Senator, in my work as a judge, what I do is I address disputes. If there's a dispute about a definition, [then] people make arguments, and I look at the law and I decide."
Sen. @MarshaBlackburn: "Can you provide a definition for the word 'woman'?"

Judge Jackson: "Can I provide a definition? No. I can't." pic.twitter.com/7sxWCvM2xB

— CSPAN (@cspan) March 23, 2022
Blackburn, a Republican from Tennessee, expressed concern with Jackson's answer.
"The fact that you can't give me a straight answer about something as fundamental as what a woman is underscores the dangers of the kind of progressive education that we are hearing about," Blackburn said. "Just last week, an entire generation of young girls watched as our taxpayer-funded institutions permitted a biological man to compete and beat a biological woman in the NCAA Swimming Championships. What message do you think this sends to girls who aspire to compete and when in sports at the highest levels?"
Jackson replied, "I'm not sure what message that sends if you're asking me about the legal issues related to it. Those are topics that are being hotly discussed, as you say, and could come to the court."
Blackburn said the allowance of biological males in women's sports sends the message to girls that "their voices don't matter."
During another part of Tuesday's hearing, Sen. John Kennedy (R-La.) asked Jackson her opinion on "when does life begin."
"Senator, I don't know," she responded. "I have personal, religious and otherwise beliefs that have nothing to do with the law in terms of when life begins."
"Do you have a personal belief about when life begins?" Kennedy asked in a follow-up.
"I have a religious belief that I set aside when I am ruling on cases," Jackson said.
.@SenJohnKennedy: "When does life begin, in your opinion?"

Judge Ketanji Brown Jackson: "I don't know…I have a religious view that I set aside when I am ruling on cases." pic.twitter.com/Yt8CBJELZS

— CSPAN (@cspan) March 23, 2022
Meanwhile, Jackson said she would respect the court's decision if it overturns Roe v. Wade this year in a case known as Dobbs v. Jackson Women's Health Organization.
"Whatever the Supreme Court decides in Dobbs will be the precedent of the Supreme Court, it will be worthy of respect in the sense that it is the precedent, and I commit to treating it as I would any other precedent," Jackson said.
Related:
5 Things Christians Should Know about Supreme Court Nominee Ketanji Brown Jackson
Biden Nominee Jackson: Roe Is 'Settled Law' and Protects a 'Right to Terminate' a Pregnancy
Photo courtesy: ©Getty Images/Pool
---
Michael Foust has covered the intersection of faith and news for 20 years. His stories have appeared in Baptist Press, Christianity Today, The Christian Post, the Leaf-Chronicle, the Toronto Star and the Knoxville News-Sentinel.